Jack and Owen's Fossil Collection
No Pain, No Gain
I have a very long educational history, which went through three major stages. I went to Collins Track elementary school in Pennsauken, NJ from kindergarten through fifth grade. I wasn't the school's Einstein, but I was a very good student academically and the teachers would have me do things for them in class. That lifestyle was considered normal to me until my father was transferred to Pittsburgh, PA.
I was born during WWII just prior to my father being shipped off to the South Pacific. After the war, he returned to Pennsauken and went back to work to provide for his family. Due to me being around and another baby on the way, he never went to college. However, he was determined to have his children attend college. He bought a home in Mt. Lebanon because it had the best schools in the Pittsburgh area. However, what he didn't realize was that it was the nineteenth best school system in the country.
This was the beginning of the second phase of my trip down the academic yellow brick road, and it wasn't an enjoyable one. I quickly went from an above average student to an average one. However, being average in Mt. Lebanon made me feel like I was dumb. Nevertheless, I graduated and went off to college and graduate school, but I never felt the way I felt back in Pennsauken. After a dozen and a half years, I went and got my doctorate.
Getting my doctorate was the beginning of the third phase. I was used to getting Cs and Bs, but then things changed. I was acing the courses. Man, I had to figure that juxtaposition out. Perhaps, I made a mistake concluding that I was dumb. Looking back on my educational journey, all the pieces started to come together. Over the past couple decades, I have taught as an adjunct professor at three different schools. Part of wanting to teach was to avoid having other students make the same miscalculation academically that I had made years before.
Three years ago, I was watching Jack, my three-year-old grandson, in Indy. I was teaching an online art history class. Jack toddled into the room and asked me what was on my laptop's screen. I told him it was a famous painting. Satisfied with my reply, he toddled off only to return fifteen minutes later with the same question about another famous painting.
As a result of a three-year-old's questions, he now can name five or six dozen paintings and the artists who painted them. A year later, Jack and I were in my backyard throwing rocks into a man-made lake. Suddenly, Jack wanted to know what he was holding. It was a rock containing fossilized seashells. While my expertise is in art history, I did take a geology class back while in my college days, which seems like several millennia ago. Therefore, if Jack enjoyed art history, he would love fossils.
Therefore, it seemed prudent to begin with a window box to store fossils that Charles Darwin would send Jack and his younger brother, Owen, as birthday or Christmas gifts.
This was their first fossil box. I was getting the correct spacing for Owen's name. It was, in my opinion, a geologic masterpiece. That being said, over the past several years, Darwin sent them enough fossils that two boxes were necessary. I planned merely to remove Owen's name and make one box just for him. However, removing his name messed up my geologic masterpiece. Therefore, I had to work on two new window boxes.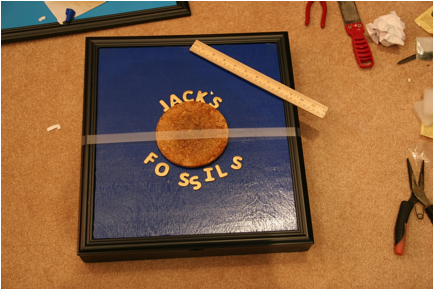 You can imagine the time it took to remove the plexiglass covers, cut wooden replacement covers, paint the cover in each of their favorite colors, which happen to me mine also, and letter the boxes. This was all done while I still was teaching online classes and writing articles for my webpage.
Then I had to replicate the same process by creating Jack and Owen's textbooks. Hours later, I had completed this Herculean task of designing their own textbooks entitled The Arts and Sciences.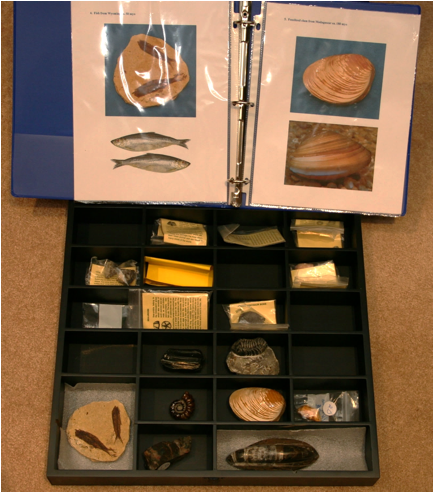 Each of the textbooks contains paintings that they like so much that Jack received for his bedroom Chagall's I and the Village , Monet's The Garden at Sainte-Adresse , and El Greco's View of Toledo . Owen seems fixated upon van Gogh. In Owen's bedroom, he has van Gogh's Bedroom in Arles , The Drawbridge at Arles with a Group of Washerwomen, and The Red Vineyards near Arles. As with letters from Darwin explaining his gifts to the boys, these favorite paintings came with letters from the artists explaining each painting. Additionally, in each textbook, there are dozens of other famous paintings, most of which they both can readily identify.
Now, you should be wondering about my drive. Obviously, I love Jack and Owen. Therefore, both my time and talent will be shared with them. However, I don't want them to suffer as I did many years ago due to moving from Pennsauken to Pittsburgh. That pain that I felt intellectually motivated me to care for them. It goes back to the old saying, "No pain, no gain."
This essay is about how I dealt with my pain, which is merely an interesting back story. Nonetheless, this essay can help you address your pains. If you do, you and others will benefit.
---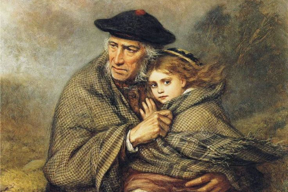 Visit the "The Hand May Be a Little Child's" page to read more about this topic.
12/19/16
Follow @mountain_and_me