Why Ginger?
The Hauntings of My Pooh Dog
I have written many essays to explain my drive to understand that which isn't obvious to me at the time. I have always been curious of loads of things even, when I was young. Nonetheless, in my twilight years, my hauntings are on steroids. These hauntings of mine aren't ghostly or eerie in nature. However, they will nag in the back of my head until I address them.
A half century ago, I got an Irish Setter, and her name was Ginger. For a dozen years, Ginger and I loved sharing our lives together. I trained her to run next to me on my bike. She cared for my three children as they toddled around their world. However, one of the worst days of my life was when Ginger died. She grew old and one day it was obvious that she wasn't going to make it. I laid down next to her and rubbed her stomach gently. An hour or so later, Ginger died. As I write this, I am crying...four decades after her death. T hat haunts me.
At the other end of my life, I got another Irish Setter, and her name is Ginger. I drove to a small town east of Pittsburgh to pick her up a couple of days before Christmas last year.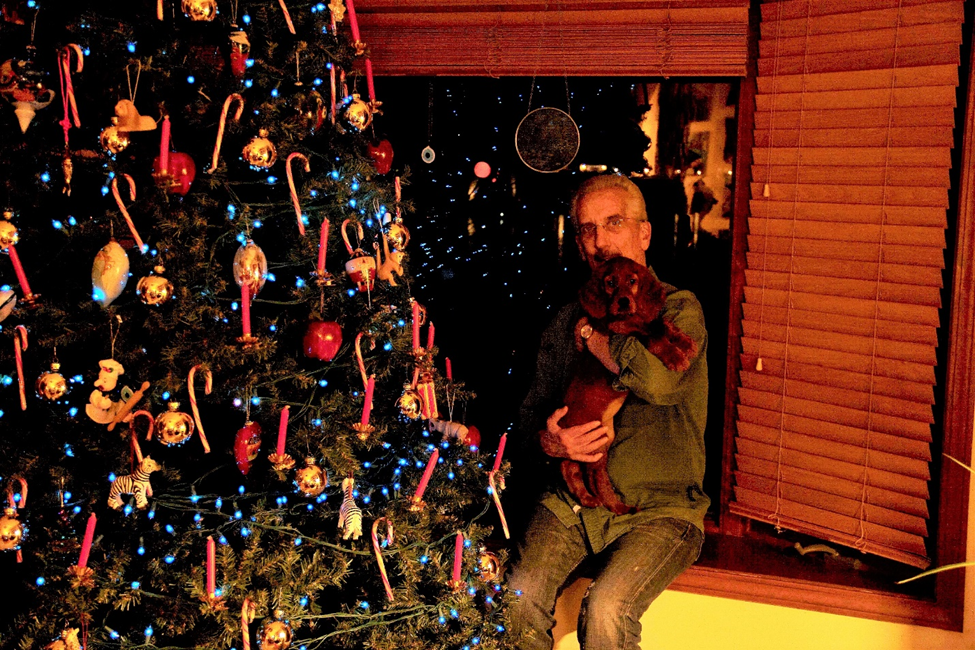 Ginger celebrated her first birthday on the 28th of last month. I love her as much as her predecessor, but, in some way, it is different, which haunts me.
"Okay, I see my gifts. You don't have to sing Happy Birthday...just cut to the chase."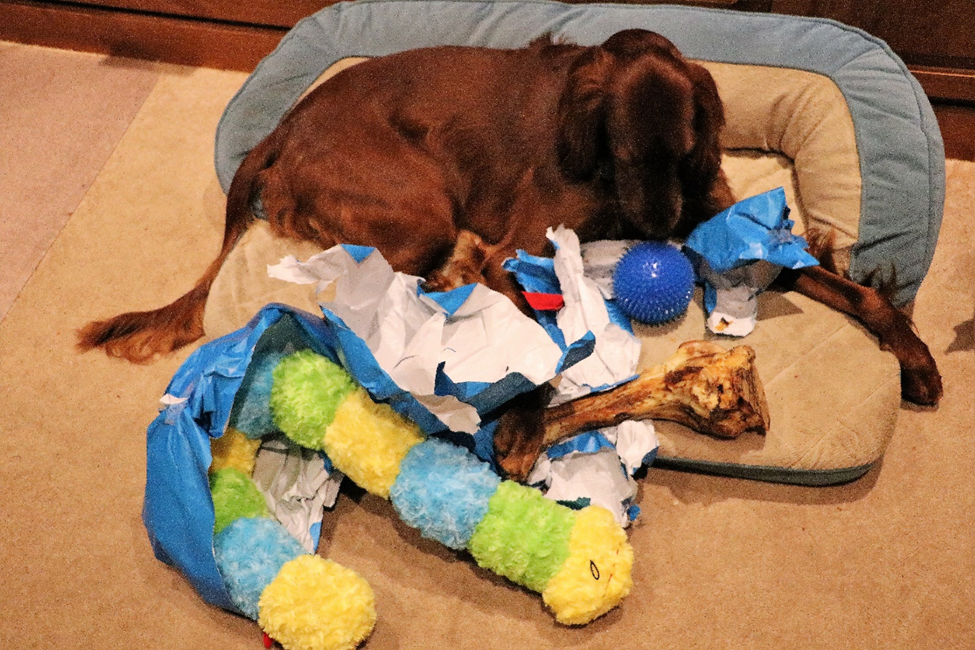 "Hey, I got a ball, a caterpillar, and a giant bone. What a happy first birthday."
"Don't touch my gifts!"
Finally, after months of hauntings, I am trying to address them. I do this in a Rogerian therapeutic process. I tell myself about my feelings and express it so much in my essays that sooner or later, I will be able to put the pieces of the puzzle of my life with Ginger Pooh together.
One of the pieces of the puzzle is that Ginger isn't perfect. She is hyperactive and wants to play with anybody or any dogs that she sees, which means jumping up on the person or dog. She is nearly 70-pounds of excitement and when she stretches out is over 6-foot in length. While she isn't aggressive, the jumping is a problem.
I have addressed that by taking Ginger to a handful of training classes, which had limited results. Finally, I took her to Landheim Training and Boarding Center and enrolled her in their Boot Camp training session, which lasts for a week. Leaving her for a week was difficult for me. I missed her. Nonetheless, she returned greatly improved, and I will continue her training.
However, next month, I will be going to Burma to try again to interview Daw Aung San Suu Kyi, the Lady, and to see Ti Ti, my Burmese granddaughter, and her family. Ti Ti's mother was my tour guide while I was in Inle Lake area of Burma four years ago. Their family is special to me, but it still means that I will have to board Ginger for three weeks. If one week away from her was difficult, three troubles me already.
I was expressing my anxiety to a good friend of mine about leaving Ginger for nearly a month. He said that Ginger will be alright. Well, she might be alright, but it is me. I had my first Ginger as I began my adult life. While she remained with my family and I nearly all the time, she was boarded several times. Years ago, I was different. I wasn't suffering like I am today. Therefore, I address my issues via Rogerian psychotherapy. It is obvious now to me that I'm different today than I was a half century ago. Duh.
In the past decade, I have danced with death twice…successfully. Once with a traumatic brain injury and another time with prostate cancer that had metastasized. While I have recovered from both dances, I learned a great deal from Randy Pausch and his Last Lecture. One of the benefits of dancing with death is that I fully understand that I am finite. Unless, you have done the dance, you know that you will die someday. You know it in your head but not in your gut. I am living life and enjoying the moment, but I am sensitive to the reality of life…that death is a part of life.
When my present Ginger was a puppy, we would play for a while and then she'd fall asleep like babies do. I would continue to pet her as she slept, which is my loving expression for her.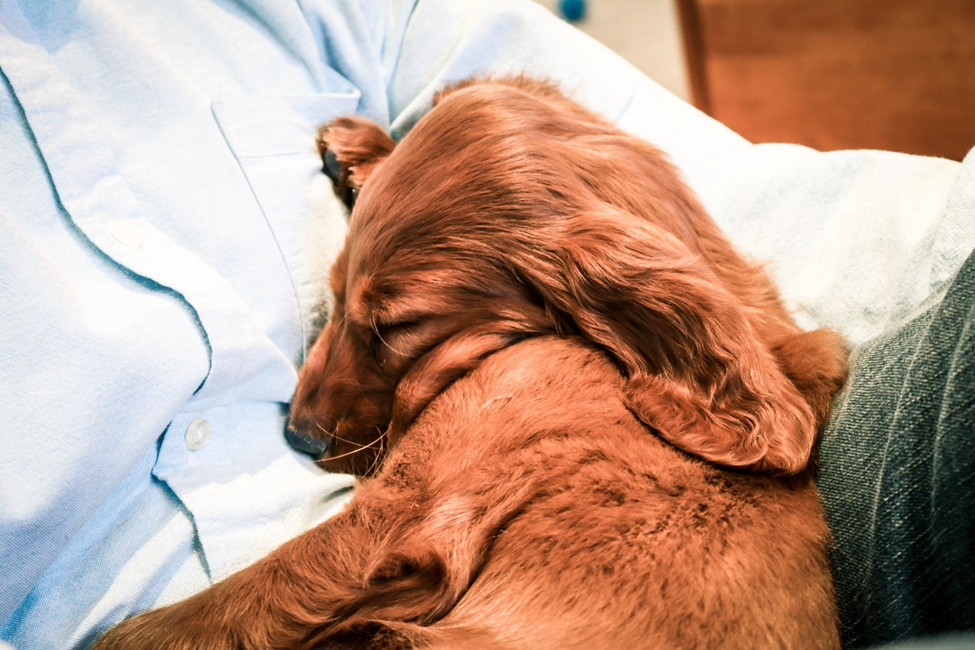 However, when my first Ginger grew old and I knew that the end was merely a couple of hours, I laid down next to her and petted her gently. While she wasn't in any real pain, I wouldn't leave her. It was my expression of my love for her. I continued petting her as she slipped away. Talk about painful moments. However, that occurred a half century ago, but watching my present Ginger falling asleep as I petted her brought back the memories of her predecessor's death. It came back with a fury of feelings. Those memories don't often return now that Ginger is a year old. She sleeps near my desk as I am working on my computer; any movement on my part awakens her. She wants to play.
Additionally, the issue of death revisited me when Ginger was 6-months old. Since I wasn't going to breed Ginger, my veterinarian suggested spaying her early to avoid medical problems in the future. Also, with Irish Setters and other deep chested dogs, the vet offered to tack down her stomach to avoid the stomach from flipping over, which causes certain death in a matter of a couple hours. I agreed and had my vet do both procedures.
However, the vet called after the procedures. She said that she wanted to keep Ginger overnight due to some sort of discomfort Ginger was experiencing. It was a routine precaution, but it troubled me. The next morning arrived and Ginger was fine when I picked her up. However, over the next two weeks prior to taking out her stitches, she had minor problems with all sorts of things, which meant that I brought her back to the vet every day except for one to have the vet check out the various issues. Finally, her stitches were removed, and all is well. Nevertheless, I still am haunted by those worries about her.
Since getting her stitches out, Ginger is back to normal. Every day, we circumnavigate the lake on which I live. We leave our home just as the sun begins to break through the darkness of night. It is a time that Ginger can explore the world especially when we get down to the end of the lake, which I call the moor. I disconnect her leash, and she bounds through the wild grasses and wild flowers like a deer.
This reminds me of my excitement as a child going down to my cousins' farm in Oxford, PA. I also reflect upon the energy and excitement of my children and granddaughter when they were young. Ginger is no different. As she runs, I know that she is thinking that she is free at last.
There I am at the other end of my life, the twilight years. I have written about the Social Security website, which will provide a person an actuarial estimate about how much more time a person would live on average based upon their sex and date of birth. I have 12.5 years, if I am average. Interestingly, canine experts see Irish Setters living roughly the same amount of time. Hopefully, Ginger andI can live out the days of our lives that remain, which would be around 2030.
"Hey, we have fun together."
Blending all the pieces of our lives together, I can better understand our journey down our yellow brick road together.
---

Visit the Burma Independence page to read more about this topic.
---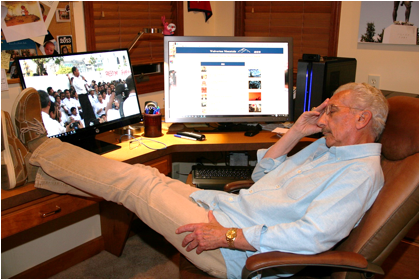 Visit the My Hauntings page to read more about this topic.
---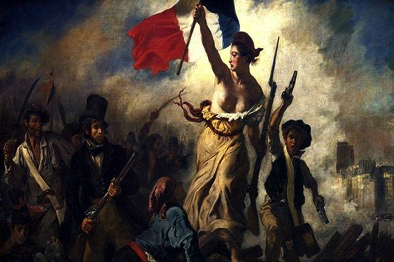 Visit the Best and Worst of Times page to read more about this topic.
---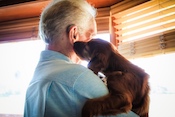 Visit the Thus Spoke Ginger page to read more about this topic.
---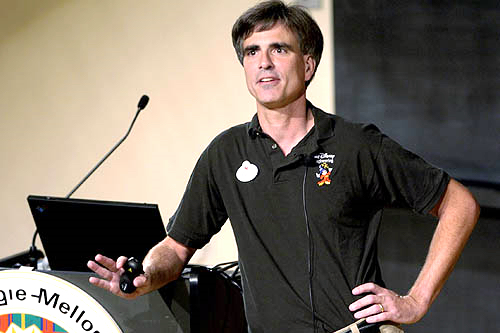 Visit the The Last Lecture page to read more about this topic.
---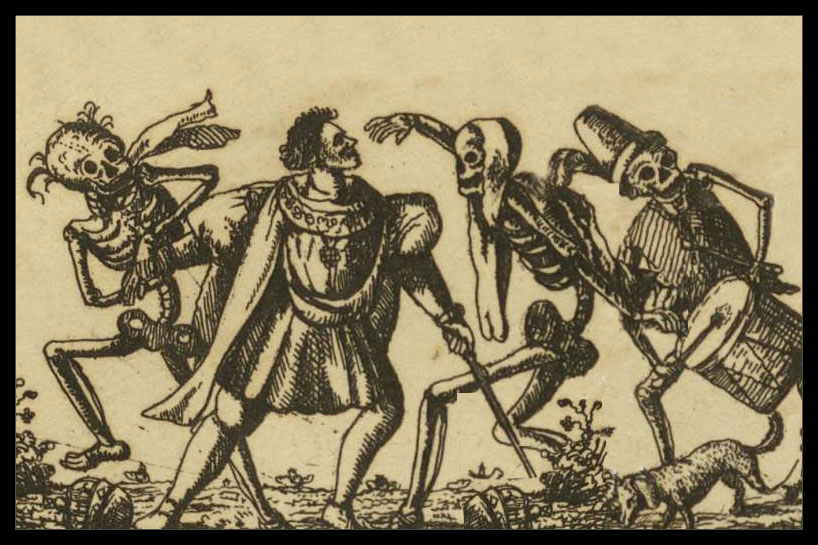 Visit the Dancing with Death page to read more about this topic.
---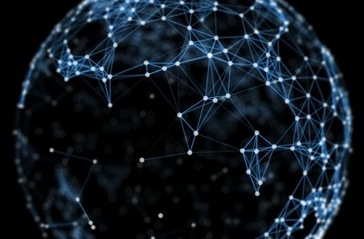 Visit the Connecting the Dots page to read more about this topic.
---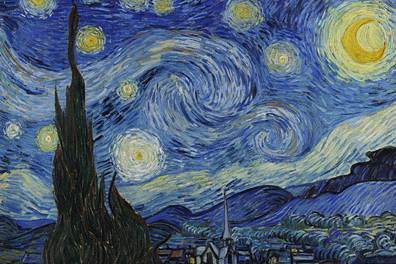 Visit the On Seeing the Light page to read more about this topic.
11/24/17
Follow @mountain_and_me