SEEING SARA AGAIN
Life is strange. Four years ago, my wife and I were planning a trip to South Asia. Our mutually agreed itinerary was India, Nepal, and Tibet. What was not mutually agreed upon was my travel agenda. Sure, I wanted to see all the sites, but I also got it into my head that it would be nice to return with a little Tibetan daughter. While I nailed down all the details for one of our trips of a lifetime, I fantasized about a little bundle of Tibetan joy...our own adoptive daughter.
I need to clarify that this burning desire for a little Tibetan toddler is not because we don't have our own five children and even one grandchild. We have been blessed with a great group of offspring. Nevertheless, I would love to have a little one even though I'd be eighty-something when that little toddler graduated from college!
Okay, I am a romantic. It is equally true that my wife is not. She is a realist. She feels that the maternal urge that has come over me is a phase, and that I need to get over it. I admit that she is probably right about the phase, and the phase probably is tied to hormones.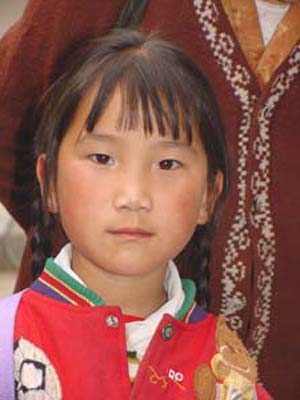 To make matters even worse, when we got to Tibet, Sara found us. We immediately recognized her. We were waiting for a ride to the Potala in Lhasa when a little child came up to me and started talking. She was practicing her English on anyone who was clearly a foreigner. If this epiphany wasn't enough of a sign that we should bring her home, we ran into her several more times during our week in Lhasa.

In spite of all the signs, we returned to the States with souvenirs but without Sara. I think that I could have forced the issue, but I was fearful that my wife might commit me when we got home. Facing long-term psychiatric treatment, I acquiesced and left Sara in Lhasa.

However, one of the administrators at the University of St. Francis for whom I teach emailed me a couple weeks ago. She wondered whether I would put together a course that would include a couple of weeks in China. Needless to say, I started on the project immediately. It has been fun working with her to hammer out all the details of this educational adventure.
We are planning to see Beijing, the Great Wall, the Forbidden City, Xian and the terracotta army, Guilin's beautiful scenery, Hong Kong and all the shops, and last but not least-Lhasa with the Potala and the Jokhang Temple. Then it hit me! Maybe this time, my wife will agree to adopt our little Sara. It should be mentioned that Sara is a part of a large family: parents, siblings, and grandparents. I don't know how they would feel about taking Sara home with us to the States.
Therefore, I have reflected upon my desire to a little one at my age. Why is it that I continue to beat the drums for this issue? Maybe I feel that I could be a better father now after practicing with my own children. Clearly, hormones play a part in this. Or, I want to relive and rework my own childhood-make up for perceived losses.
While adopting children at my age is only for the foolish and wealthy (I don't fit that category completely; I'm not wealthy). Perhaps, you might consider adoption. There are tens of thousands of little ones in China needing adoption-especially little girls. If you are able to adopt an infant from China, you will have done that little one a favor beyond her wildest dreams. Both you and the child will be blessed. Besides, you can always count on me to baby sit whenever you need a youngish grandfather to look after your child.
P.S. I even have a suggestion for her name...
This article appeared in the Dixon Telegraph on 10/18/04.
For some past articles about Sara click on the following links:
http://www.wolverton-mountain.com/articles/sarapart1.htm
http://www.wolverton-mountain.com/articles/sarapart2.htm
http://www.wolverton-mountain.com/articles/sarapart3.htm