FINDING SARA--PART 2
You will recall from the previous article that my wife and I have had a long-running discussion about bringing back a Tibetan orphan to America. After my wife completed her feasibility study, we concluded that my dream wasn't practical. However, like an epiphany in biblical times, Sara came to us while we were in Lhasa. We were waiting in front of our hotel before we visited the Potala Palace. Suddenly, Sara appeared. I looked down and there she was-a little five-year-old Tibetan girl. She introduced herself and proceeded to ask me a series of questions without giving me much time to answer. "Why did you come to Lhasa?" "Is Lhasa pleasant?" "Where are you from?" These inquiries were obviously language patterns learned in school.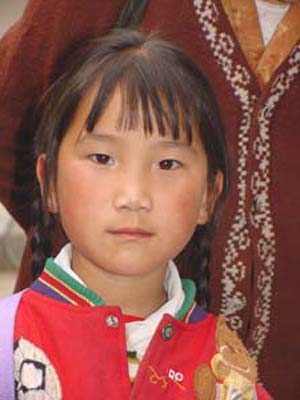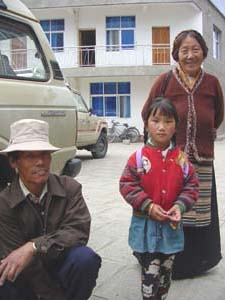 Our little Sara was adorable, and I turned to my wife and said, "See, God wants us to have our little Sara." The fact that my wife didn't hit me was a sign that Sara's appearance affected her more than she wanted to express. I then sat down on the curb and chatted with our little cherub. Her grandparents had taken her to meet tourists so that she could practice her English.

After a short conversation, I took a couple of pictures of her, and I wished my little Sara well. As we drove off to the Potala, I was very quiet. What did her appearance mean? However, realizing we weren't going to take Sara back with us to the States, I placed her in the pleasant memory file of my mind and off we went to the Potala Palace.
The next day, we went to the Jokhang Temple to give the Shakyamuni Buddha a katak, a ceremonial scarf given to me by Dr. Norbu. Since he couldn't go back to Tibet with us, I asked what I could take to Lhasa and leave there for him. He went over to a cabinet and brought out a lovely golden katak. He said that it would mean a great deal to him if this could be presented to the most important Buddha statue in the most important Tibetan temple. After a rather large donation to the Jokhang Temple, a monk allowed my wife to take several pictures of my presenting a katak to the Buddha. Having accomplished the task and recording the moment for Dr. Norbu, I was high. Adding to my euphoria was the effects of the altitude upon us. By this time in our journey, we had gotten over the altitude sickness, but the shortness of breath was a constant remember that we were at 14,000 feet above sea level and that we were strangers, like the Chinese invaders, to Tibet. Neither the Chinese nor we were from this land at the roof of the world. Merely walking through this ancient Buddhist shrine reminded all that only the Tibetans had the lung capacity to avoid hyperventilating.
Therefore, after fulfilling my exiled friend's wish, I needed to sit down for fifteen minutes and catch my breath. There we sat breathing as fast as we could in a vain attempt to compensate for not being born with large Tibetan lungs. Suddenly, Sara again appeared like a diminutive angel with straight black hair--this time arranged in a ponytail.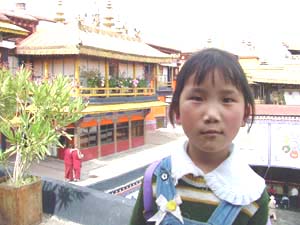 "Hello, remember me?" "Sara!" I blurted out while I hugged her. Surely, she had no idea what was wrong with that gray-haired guy from America. There she was again with her patterned questions and her grandparents. She talked for a while and then off she went to converse with other tourists. She would have stayed longer with us had she understood our quest for her, but she too was on a quest-a quest to learn English.
| | |
| --- | --- |
| | |
| | |
I have thought about our little Sara often. Late at night here in America, I wonder what she is doing on the other side of the world. Are her grandparents escorting her around to tourists so that she can work on her English? While it is cute to see this little one honing on her language skills, it is a shame that she isn't merely enjoying being a little kid in a free Tibet. English is probably one of the necessary things that she needs to do to assure her place in the 21st century. I feel badly that the Chinese military overtly oppress the Tibetans, and we in the West force them indirectly to learn English so that they can compete in the world. The Chinese authorities are consciously attempting to eradiate the Tibetan culture, and America is doing the same unconsciously. I guess that there is a difference between the two oppressions...one brutal and the other benign. However, the Tibetan culture is being changed nonetheless by both groups of foreigners. This raises many questions for Tibetans about how to maintain their culture and still live in this modern age.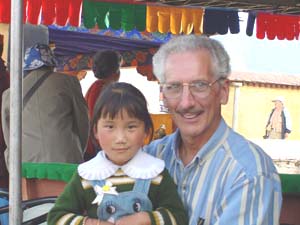 We will stay in contact with our little Sara by sending her letters and books so that she can work on her English. I hope that our little child will reappear for us as she did in Tibet this past summer. The last thing that I said to Sara was that when she got older, we would have her come to visit us in America. However, she merely cocked her little head not understanding a word of my promise. Her not understanding didn't matter; I simply hugged her and told her again that we would meet again-next time in America.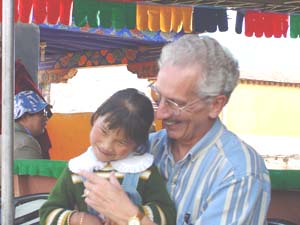 This article appeared in the Dixon Telegraph on 10/18/01.