MY FRIEND HARRY
TALK TO ME NEXT...
Odysseus and I took a long time to return home, but we finally both made it...he to Ithaca, Greece and I to Merchantville, NJ. My return occurred on May 9, 2011. Over 68-years before, I was born during WWII. While my father was fighting in the South Pacific, I lived with my mother, her parents, and my mother's two younger sisters—one of whom also had a baby, Donnie, just a couple months younger than me.
My grandparents' home was built in 1888 on Walnut Ave. in Merchantville. As I was growing up, I thought of it as an old home then. Now, it is over twice as old as it was back then. That Oakford homestead was loved by all who lived there.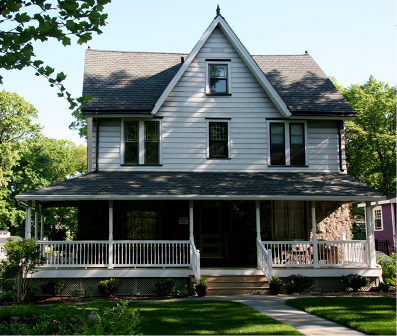 However, my grandfather was sick and died about 65 years ago when I was around four. Several years later, my grandmother and her youngest daughter moved to an apartment nearby for the convenience of a smaller place in which to take care. Over the following decades, the Oakford home has had several owners.
I dearly wanted to see my first home—a home where my cousin, Donnie, and I played in the sunroom as toddlers. We were said to have had loads of fun growing up together. In fact, we threw toys around so much in our playroom that my grandfather had to put chicken wire on the inside window frames to protect the remaining front windows that were not smashed by Donnie and me while playing.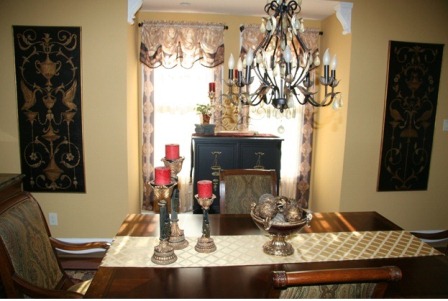 I returned home finally to discover a young couple was living there. I told my wife and several of the younger Oakford clan who were standing on the sidewalk in front of the home to allow me to go to the door and explain what I wanted. The young lady that lived there certainly wondered about me as I tried to explain that I wanted to see my first home. I was slow in convincing the owner of my reason for wanting to visit where I spent my early years, which she and her husband now owned.
Finally, Randy, one of Bud and Bunny's daughters (Odysseus Is My Middle Name), came up to the front door where I was not doing a good job of convincing the present owner to let us in to see my playroom of over six decades before. Randy, within less than a minute, was able to convince the owner that I was okay and not to worry. The owner welcomed us into her home…not just to see the playroom but the entire house. We were there for about an hour reminiscing about this old house.
Randy had told me before about the previous owner of the Oakford house who had a little girl about 6. Her mother heard the little girl talking to someone in her bedroom. She asked her daughter to whom she was talking? The little child merely replied that she was talking to Harry, her friend. Harry, she said, often visited her for talks. The little girl added that she liked talking to this nice old guy...Harry.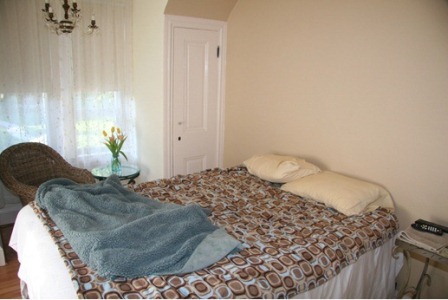 It should be noted that Harry Oakford had died some 65 years before, after a long illness, in what was now that little girl's bedroom. Somehow, Harry came back to his room and talked to the present resident who knew nothing of the Oakford family.
My next Odysseus-like journey will be to attempt to find the previous owner and talk to this little girl who is probably in her late teens or early twenties by now about her conversations with my grandfather, Harry Oakford…a nice old guy of whom I have very few memories.
In addition to knowing that the Oakford family also considered Harry, a nice old guy, I possess tragically just two faint memories of my grandfather. I recall one event in the backyard of their home on Walnut Avenue. I was in the back with him either husking some ears of corn or cleaning fish. The only other memory was after the war and my father had returned home, and my parents had bought a home nearby. One evening, Harry, the nice old guy, drove several blocks to our new home with his car's emergency brake still on. This caused a great deal of smoke, and I assume a little fire of some sort. The fire department sent a fire truck to save the car.
I am going through the grieving process of his death…over six decades late. I had a grandfather who loved me, but a grandfather that I don't have but two faded memories.
If Harry can talk to a little girl who is sleeping in the bedroom in which he died, I wish that I also had the ability to talk to him someday soon. I possess a few pictures of him and a few moments on an old 8mm film used to share events with my dad while he was overseas during WWII. While pictures aren't as emotionally meaningful as memories of talking together, they are reinforcements to those lost years of my memory in my first handful of years. I can see us together and know his love for me…in a retrospective manner, which is far better than no memory and no pictures at all. At least, I possess those times together in pictures.
This essay on my grandfather has two foci. The first is that I wish to talk to him now about our times together many years ago. I wish to add actual conversations with him to the few photos that I have and a couple faded memories.
The other reason for sharing with the reader, who isn't tied to Merchantville, who isn't a relative of mine, and who didn't live in the Oakford homestead, is to wake-up my readers to the reality with which I am dealing. You might not have a Harry come to you or your children to talk. You may not have a great desire to go back to a home in which you once lived. Nevertheless, we all have children in our lives, which need to have shared memories with us.
This is a present day parable about relationships even if half that relationship won't recall it years later. I am now at the strange position in life that my grandfather was in when I was born. I have a grandson. He's a cute, loveable child. I want to share times with him, laughing, playing, reading, and going for walks. However, I don't want to replicate my lack of memory of my grandfather when he grows up. I love the time we have together and thousands of pictures that we have of him even though he is nearly a year old. Nevertheless, I want him to be able to say that he remembers clearly times in which we shared and not merely pictures of the past of us.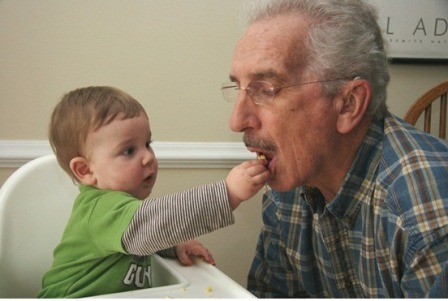 I am not the only one in the world desiring memories of relationships between grandfathers and grandchildren or any tie to the various generations within a family tree. Take time to take the pictures. Take as many as you can. However, make sure you live long enough and/or have meaningful time together. In time, you won't be there, but memories will remain.
---

Visit The Mentors and Me page to read more about this topic.