GiGi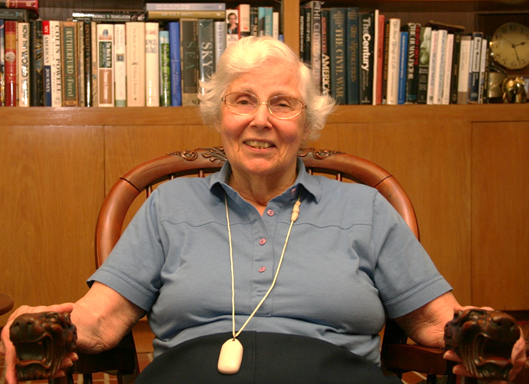 We meet people who can change our lives. GiGi is such a person. I have known her for years. She now is in her early 90s. However, a person half her age cannot replicate her quick wit and verbal retorts during our conversations.
When GiGi was much younger, she taught Latin in the high school in Buena Vista, GA. Buena Vista is a small Southern town with a population around 2000 that has not changed much over the years. It is a quiet town, which is probably why GiGi likes it so much. She was married, but her husband died during WWII in Germany. At that time, GiGi was a young mother of a baby boy born just before her husband left for the war in Europe.
Today, the caretaker role is reversed. GiGi's son now takes care of her. She refuses to go to what she calls "one of those old folks' homes." I met her at the University of Chicago Hospital in a waiting room nearly two decades ago. I was waiting to see my doctor, and, while waiting, I was doing some work on my laptop. She was also waiting to see her doctor. I do not recall who started the conversation first, but we talked until the staff called us to see our physicians.
As chance would have it, we both finished our office visit about the same time. I offered to take her up to the cafeteria on the second floor of the Duchossois Center. Thus began our twenty-year long friendship. Additionally, it also began a lengthy conversation in a restaurant in Chicago, which she calls the big city. GiGi will come up to Chicago for medical checkups, to attend the Chicago Symphony, or just to do some shopping at least a couple times a year.
I appreciate GiGi's openness and honesty. All of our conversations over the years have benefitted me more than she could imagine. I wrote the following essay after her most recent trek to the big city.
Dinner with GiGi

The Socratic Method of an Older Woman

07/17/15
---
GiGi

And Her Message to Betsy

07/18/18
The Water Horse of Loch Ness

And Our Water Horses of Life

02/07/18
GiGi's 90th Birthday Party

At Down the Hatch

12/20/17
A Dog's Purpose

The Person's Purpose

03/03/17
Banning Muslims

Making America Great Again

01/16/17
GiGi's Psychoanalysis

Me and My Hauntings

09/23/16
Ravel's

Bolero

Was Repeating Itself

04/20/16
The Little Match Girl

And The Golden Statue

01/11/16
Daring Greatly

Or How Failure Frees Us to Succeed

10/30/15
The Old Pine Table

An Object of Renewal and Rebirth

10/14/15
A Great Dancer with Death

A Sobering Experience

09/21/15
Agnes Majors in the Minors

A Big Fish in a Drying Up Small Pond

09/04/15
The Dragon Rocker

And GiGi's Son

08/07/15
When You are Not Preaching to the Choir

Finally Understanding What You Thought You Knew

07/25/15