Uffizi Gallery
Located in Florence, Indy, and Crown Point
I have written about my love for the arts on many occasions. It began with my taking The Arts while in college. It was a 10-hours required class that could be taken in either your junior or senior year. Professor Louie Palmer taught this class. I took it in my junior year and enjoyed the class. At the end of the second semester, Louie called me into his office and asked me to be his teaching assistant the following year. That single event changed my life in many ways. I have taught art history many times in the past couple of decades to college students at three different schools. I would teach art history 24/7 for the rest of my life. That is not a hyperbolic statement.
After graduating from college and graduate school, I went to Europe to do a year of post-graduate studies at New College, which was a part of the University of Edinburgh. However, the summers before and after New College, I traveled throughout most of Europe. That was a golden opportunity for me to see firsthand much of the works of art that I enjoyed while studying and teaching.
One of the great art galleries of Europe is the Uffizi Gallery in Florence. Essentially, it contains mostly Gothic and Renaissance artwork. Originally, it was built in the mid-16th century for the administrative offices of Cosimo I de' Medici. Interestingly, the word uffizi means "offices" in Italian. Cosimo I de' Medici ran Tuscany from this huge office complex. When Italy became a nation, rather than a collection of city-states two centuries later, it became the Uffizi Gallery.
The Uffizi Gallery specializes in pieces of art from the time of Giotto, Martini, Piero, Uccello, Botticelli, Lippi, Michelangelo, Raphael, Titian, Caravaggio, Gentileschi, Leonardo, and many others.
The following photo are some of the painting and sculptures housed in the Uffizi Gallery.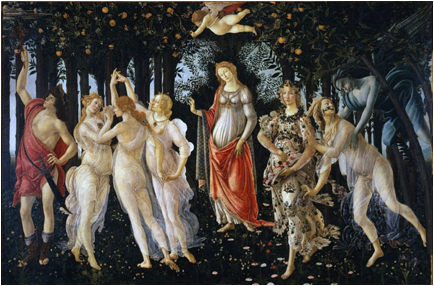 However, while I recall many of the famous paintings, most of the walls of the Uffizi look like these parts of the gallery. You would be hard pressed to add too many more paintings to these hallways.
When I went into the gallery nearly 50-years ago, I can still recall how overwhelmed I was with paintings all over the walls. That is the backstory. However, when Owen, my grandson, was around a year old, he came to a visit me in Crown Point. His mother carried him into the living room. You can't believe how overwhelmed Owen looked with all the pictures on the walls and a vast number of items all over the place. This is what he saw in my living room.
Interestingly, that was about the time that Jack saw me teaching an art history class on my laptop and wanted to know what I was doing. Thus began his introduction to the arts. Jack is now 6 and Owen is 3. Jack knows dozens of paintings and the painters. Owen is beginning the same journey as his older brother did. He knows a good number of paintings like Jack knew when he was 3.
This is the stairs to a guest room.
This is what I call the China Room, which is a guest bedroom/museum of Chinese and Tibet artifacts.
This is another wall of my Uffizi Gallery in Crown Point.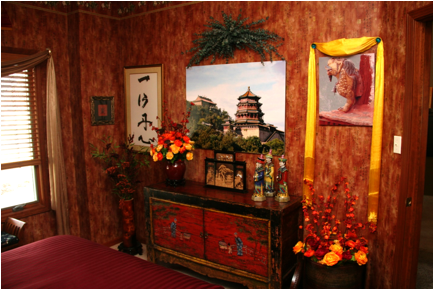 This is the family room of my gallery.
This is the other end of the family room.
This is another perspective of the Crown Point gallery.
Can you imagine the stories that these pictures and objects can tell? Many have already told their stories.
A couple weeks ago, I was in Jack's bedroom in Indy and was also overwhelmed by all his drawings on his closet doors and wall.
Here is an example of Jack working at his drawing of van Gogh's Bedroom in Arles.
This is Owen working on a unicorn like Marc Chagall's painting. Jack and Owen are clones of Chagall.
I told Jack how I was taken the first time I was at the Uffizi Gallery and how Owen reacted several years ago coming into my living room for the first time. It was then that Jack said that my home is like the Uffizi Gallery. I told him to tell his parents to take him and his brother to Florence someday and visit the Uffizi. It will take their breath away.
06/08/16
Follow @mountain_and_me