The Still, Small Voice
Emerson and All of Us Have that Voice
Years ago, many years ago, I went to Mt. Lebanon High School. At that time, it was the 19th best school system in the country. My parents moved from Pennsauken, NJ to Mt. Lebanon, which is a suburb of Pittsburgh in the early 50s. In Pennsauken, I was an above average student in an average school system. The transition from Pennsauken to Mt. Lebanon was a challenge for me and took me half my life to overcome its effects.
It was not merely the cultural and academic shock dealing with the superb school system. I had worked very hard at being average at Mt. Lebanon. For example, in my high school English classes, we were required to memorize several hundred lines of poetry or prose each semester for four years. I hated that memorizing assignment with a passion.
Nonetheless, that single negative experience in high school has benefited me greatly as an adult. A day does not go by that I will not quote something that I had memorized nearly 6-decades ago. Each of the four years of those English classes, I had to pick many poems or prose. Here are several that I memorized years ago and still remember verbatim large parts of them. This is one from George Elitot's Silas Marner:
In old days there were angels who came and took men by the hand and led them away from the city of destruction. We see no white-winged angels now. But yet men are led away from threatening destruction: a hand is put into theirs, which leads them forth gently towards a calm and bright land, so that they look no more backward; and the hand may be a little child's.
Or this one from James Russell Lowell's What is so Rare as a Day in June:
And what is so rare as a day in June?
Then, if ever, come perfect days;
Then Heaven tries earth if it be in tune,
And over it softly her warm ear lays;
Whether we look, or whether we listen,
We hear life murmur, or see it glisten.
This quote is from Shakespeare's play, Julius Caesar. I quote this at least once a week.
Cowards die many times before their deaths;
The valiant never taste of death but once.
Of all the wonders that I yet have heard,
It seems to me most strange that men should fear;
Seeing that death, a necessary end,
Will come when it will come.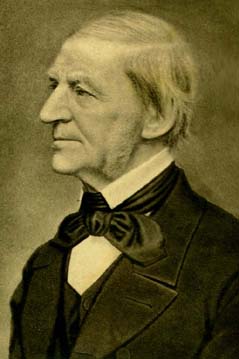 However, Ralph Waldo Emerson always fascinated me personally. This writer and social critic caused me to amuse over and then memorize some of his prose and poetry. His writings seemed like something Ben Franklin would have written. Here are three such examples:
If you write a better book, or preach a better sermon, or build a better mousetrap than your neighbor, the world will make a beaten track to your door.

Hitch your wagon to a star.

By the rude bridge that arched the flood,
Their flag to April's breeze unfurled,
Here once the embattled farmers stood,
And fired the shot heard round the world.


However, for some reason, this one-liner of Emerson attracted me most. "What lies behind you and what lies in front of you, pales in comparison to what lies inside of you."
Emerson lived during the 19th century, which was the romantic period for the American writers. Writers like Thoreau, Whitman, Hawthorne, and Melville were writers during this romantic period, and many of whom were close friends of his.
Emerson went to the Boston Latin School when he was nine year old. However, he went to Harvard when he was fourteen, which gives you some idea of his intellectual ability. Regardless of his academic ability, Emerson has some health issues. He left New England and went to St. Augustine, Florida hoping that the weather would help him. Interestingly, he met Achille Murat who was the nephew of Napoleon while convalescing in warmer climes. Murat had a profound effect upon Emerson's intellectual growth.
In addition, Emerson attended a Bible Society meeting while in St. Augustine. There happened to be a slave auction just outside the meeting he attended. Emerson said of the two very different meetings, "One ear therefore heard the glad tidings of great joy, whilst the other was regaled with 'Going, gentlemen, going.'" While he was always a liberal and against slavery, that experience had a profound effect upon him.
Emerson then went to Europe from 1847 to 1848 visiting Great Britain and Paris, France. The trip to Paris during the French Revolution of 1848 added to his political conviction about freedom for people. Emerson wrote in his journal, "At the end of the year we shall take account, and see if the Revolution was worth the trees."
A dozen years later, the American Civil War occurred, which he saw as a parallel to what he experienced in France. In fact, in the run-up to the Civil War, John Brown, who later led the Harpers Ferry raid, was a guest in Emerson's home.
While Emerson voted for Lincoln in 1860, he had a profound concern about Lincoln. Emerson said that Lincoln was more concerned with keeping the Union together than ending slavery. Emerson did not wish to wait around on the issue of the emancipation of the slaves. However, in early 1862 during the Civil War, he met Lincoln and seemed to accept Lincoln's approach.
Over the years since I first memorized, "What lies behind you and what lies in front of you, pales in comparison to what lies inside of you," I have wondered about exactly what Emerson meant with that one-liner.
It has always intrigued me that Emerson was ahead of his time religiously. He said, "I like the silent church before the service begins, better than any preaching." Someone asked him about which religion he was in most agreement. Emerson mentioned Quakerism and the "the still, small voice." It seems that the institutional church and their message did not impress Emerson as much as being honest with one's inner self. What this reformer wanted most was honesty from both the religious and secular worlds.
Regardless of where we are religiously, we can all benefit from Emerson's, "What lies behind you and what lies in front of you, pales in comparison to what lies inside of you."
Of course, that is if we listen to that still small voice.
---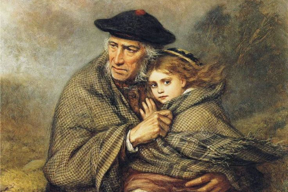 Visit the "The Hand May Be a Little Child's" page to read more about this topic.
09/08/14
Follow @mountain_and_me