The Most Dangerous Woman in America
Mother Jones and Her Boys
I had gone to St. Louis for a seminar last fall. I turned on my GPS, typed in the address of the conference center outside St. Louis, and drove off very early in the morning. I drove enveloped in the pitch-black darkness. After several hours, the sun came out as I neared St. Louis. It was then that I happened to notice a sign for Mount Olive. Something struck me about the name of that small Illinois village. Before I could recall, another sign reminded me...Mother Jones Memorial.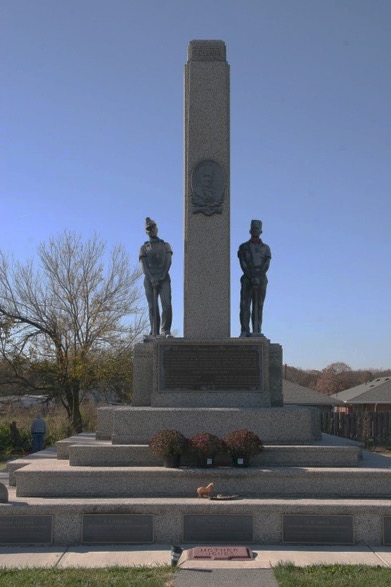 Over the years, I had wanted to visit the memorial and burial place of an Irish-American liberal, community organizer, and union activist...and a grandmother no less. She was one of a kind even by today's standards.
Mary Harris Jones immigrated to North America from Ireland with her parents due to the potato famine. When she grew up, she fell in love, married, moved to Memphis, TN, and had four children. Tragically, yellow fever killed her husband and all four young children in 1867. She returned to Chicago where she opened a shop making dresses. However, the Great Chicago Fire destroyed her shop and much of Chicago in 1871.
Having lost her family and her dressmaking business, she became involved with the Knights of Labor, which was a precursor for the Industrial Workers of the World (IWW). The IWW's nickname was the Wobblies. Her work with the Wobblies was my connecting her with Joe Hill to Pete Seeger who were also in the Wobblies.
Mother Jones became a union organizer and worked for child labor laws to protect them from long hours and working conditions. Hardly any important social movement of the time related to unions and child protection were not founded, co-founded, or supported by her. She addressed the issues related to the Haymarket Riot in 1886 and the Virden Massacre in 1898 where she called the miners that were killed during the strike, her boys.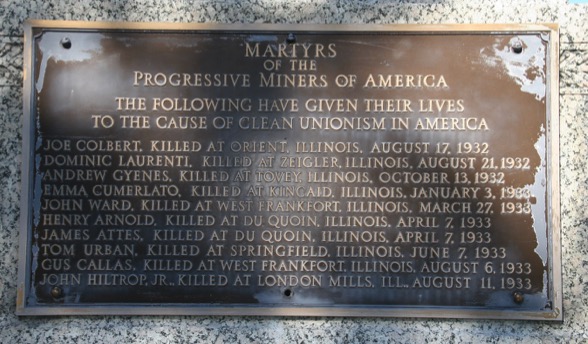 Mother Jones also led The Children's Crusade to Washington in 1901. The Crusade fought for child protection laws by prohibiting children from working in mines. Their slogan was, "We want to go to school and not the mines!" Mother Jones was what many thought was "the most dangerous woman in America."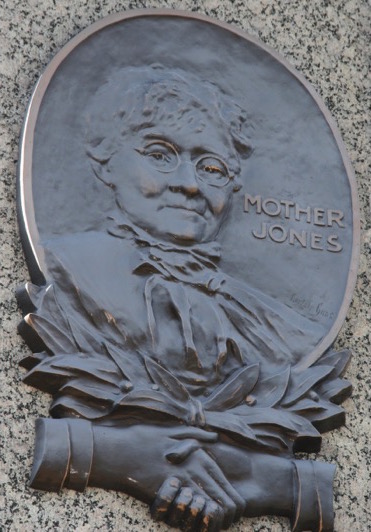 An interesting aside is that Mother Jones intentionally wore black dresses that were not up to date as a reminder of her support of her boys and all others with whom she could identify. She worked to help the poor and downtrodden. Her dress code was a visual reminder to all. Interestingly, years later, Johnny Cash did precisely the same thing when he wore black as a dress code signal to the oppressed that he knew their pain. Mother Jones often used street theater to convey her message. Imagine what she and Johnny Cash could have done with a duet about being in black.
As much as Mother Jones was into social rebellion and reform, she was not involved in the Suffragette movement that worked for ratification of the Nineteenth Amendment. When asked about her lack of involvement, this was her curt reply, "You don't need the vote to raise hell!"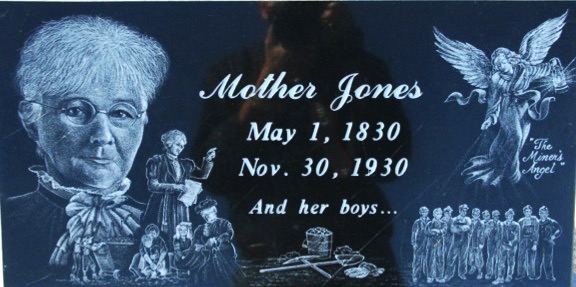 The US Senate called her the "grandmother of all agitators." Her terse reply was "I hope to live long enough to be the great-grandmother of all agitators." Mother Jones had a different Weltanschauung about life. She stated, "We count it death to falter not to die."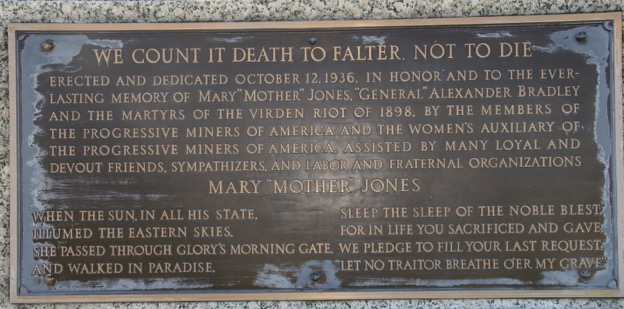 As I stood there at her memorial, I thought about the courage and strength that Mother Jones mustered in the face of the actions of many people. Over the years, I have visited many other places where there were attempts to change society for the better like New Lanark, Scotland, New Harmony, IN, the Amana Colonies, IA, and the Oneida Community, NY. In each situation, there were leaders committed to a new worldview where justice, equality, and concern for one another were the rule.
---
Mother Jones is a lot like Joe Hill who never died. Mother Jones was at a Mitt Romney fundraiser during the last presidential campaign.
This is also another Mother Jones appearance. Note the person is wearing black.
---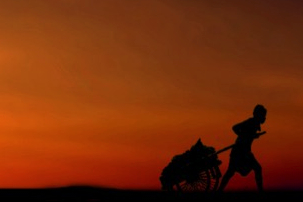 Visit the Darkest Before Dawn page to read more about this topic.
---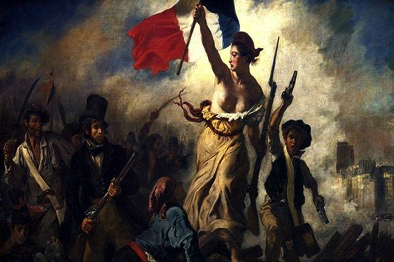 Visit the Best and Worst of Times page to read more about this topic.
01/16/15
Follow @mountain_and_me