I have told every student that I have ever taught in the past two decades that, if they want to be fully informed and understand the world, they must travel outside of North America. I have toured Europe, the Middle East, Africa, South America, Southeast Asia, and several islands in the Pacific. Additionally, I have done post-graduate studies in Scotland and taught a class in Tibet and China. These trips have benefited me greatly in many ways including educationally. The educational process begins by attending classes and reading textbooks. However, traveling overseas will put that learning process on steroids.
To reinforce my suggestion of traveling, I have written about how the British aristocracy added to their four years of college education with the Grand Tour. In the last part of the 18th century into the first part of the 19th century, it was fashionable to go on the Grand Tour to primarily Europe and was considered the educational capstone for all their academic learning. In fact, some of the graduates went to places far beyond Europe. Regardless of their destination, it provided an additional and critical level of learning far beyond merely books and lectures.
The British were separated from Europe by the English Channel. However, America is far more isolated from most of the world by two large oceans. To the north of us is a place very much like America and to the south of us are resorts along the water where locals speak Spanish. Therefore, Americans must travel overseas if they wish to truly be educated. One's Weltanschauung (worldview) changes radically once anyone travels overseas. I have taught humanities for over twenty years. Trust me. I have an infinitely deeper understanding of history, philosophy, religion, and the arts due to traveling.
Three years ago, I spent a month traveling in Myanmar (Burma). Foreigners in Myanmar are permitted to travel in the tourist triangle, which includes places like Yangon, Bagan, Mandalay, and Inle Lake. I loved my experiences of traveling throughout those areas. At the end of my travels, Min Ko Naing invited me to the 88-Generation's protest rally near Sule Pagoda on January 4, Myanmar's Independence Day.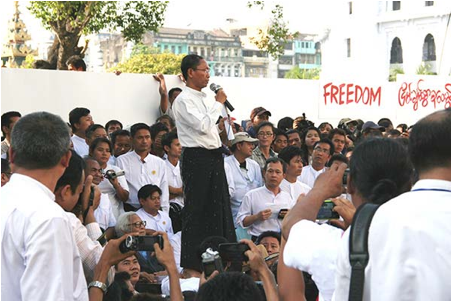 I have written about the feelings that I had being at a protest rally in a military dictatorship. This rally was at the same place where on August 8, 1988, there was the 8888-Uprising. Daw Aung San Suu Kyi spoke at that rally to a half million people in attendance. Then the military began killing thousands of protesters. Why? Because the protesters wanted human rights.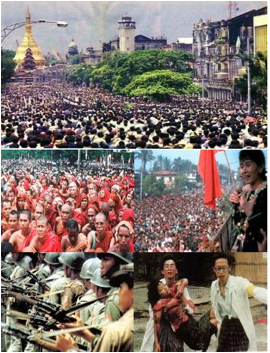 Talk about a learning and transformative experience for me. It was for me like visiting sites like Selma, AL where the protest turned bloody during the civil rights movement. Walking around in the place where an unknown number of people were killed by the military changed me. Emotionally, I am a different person. I kid you not.
Because of the human rights movement lead by Aung San Suu Kyi, the Lady, since the 8888-Uprising, I have wanted to interview her. That was the main reason for traveling to Myanmar three years ago. I failed in my attempt to contact her, but that isn't the end of the story. I am trying again and believe that I will be successful. I want to sit down with the Lady about her quest to bring democracy and freedom to her country. I have done all the formal and necessary things to get an interview.
While I wait to hear whether I will be able to accomplish the most important thing that I will ever do in my entire life, I continue to write essays about Aung San Suu Kyi and email my friends in Myanmar. I want to return soon to interview the Lady and discuss with her some ideas that I have about the quest to lead her country to a new day.
In addition, I would like to interview Htin Kyaw, the President of Myanmar. I want to visit two tour guides, Tin and Moh Moh. While in Myanmar, I met Moh Moh's husband and three children. Moh Moh's oldest daughter, Ti Ti, who is around twelve now, played Scrabble with me and won. I'm demanding a rematch when I return. I don't think that Ti Ti is worried about losing to her American grandfather.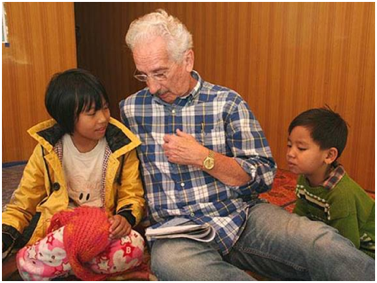 Another thing that I have done is to download a movie to my computer. Actually, I have only two movies in my iTunes' library: Man of La Mancha and The Lady. Interestingly, both those films are interrelated. The first movie is about a mentor of mind, Don Quixote, who is on seemingly impossible quests. The Lady is about Daw Aung Suu Kyi who is another mentor of mine. I have watched both movies many times and both have inspired me.
However, the first time I watched The Lady, I experienced to two strange phenomena. First, I am not an outwardly emotional person. When I watch movies, I don't cry...never. Well, the first time watching The Lady, I did nothing but cry. I can't explain it and am not ready to attempt to figure it out. Having said that, trust me; I was moved emotionally.
At the beginning of this essay, I wrote about the importance of overseas travel and visiting places of historical importance. However, the movie, The Lady, allowed me to travel back in time and to be present during the morphing of a wife and mother into who took up the mantle of her father, General Aung San. It was like traveling back in time and watching her life change. I have read about it. I have been at many of the places. However, it was like I was there.
The Lady became the knight-errant of Myanmar, which is reminiscent of Don Quixote's quests to dream the impossible dreams.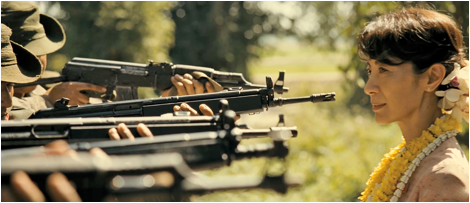 I have mentioned that both the American Embassy and the government in Myanmar have informed me that the process of requesting an interview with Daw Aung San Suu Kyi will take some time if I am granted an interview.
Nonetheless, as I wait, I have gotten a new passport, updated my shots, gotten anti-malaria pills, special antibiotics, talked with the college that I teach, and gotten additional items for my camera and video recorder. In addition, I already have one of my gifts for the Lady. However, the other arrived on the same day as I downloaded the movie. It is a Li Bien ornament. I have collected Li Bien ornaments for years for myself, for my family and for my friends. This year, I ordered various designs for my family and friends like I have done for years. However, I ordered four special ornaments online called the Peacock. The peacock is the logo for the National League for Democracy, which is the Lady's political party. One ornament is for GiGi, Moh Moh, the Lady, and myself.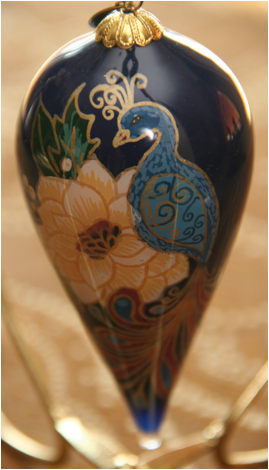 ---
This video is the song, Fighting Peacock Flag.
---

Visit the Burma Independence page to read more about this topic.
---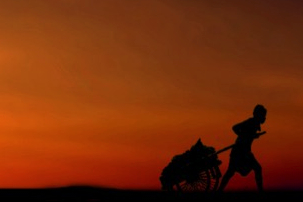 Visit the Darkest Before Dawn page to read more about this topic.
---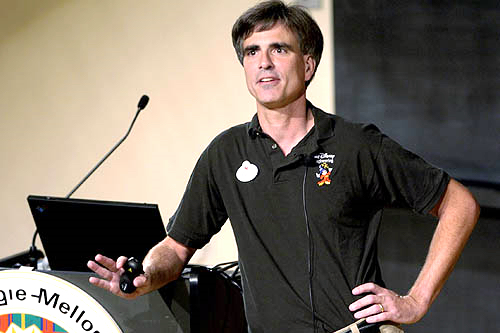 Visit the The Last Lecture page to read more about this topic.
---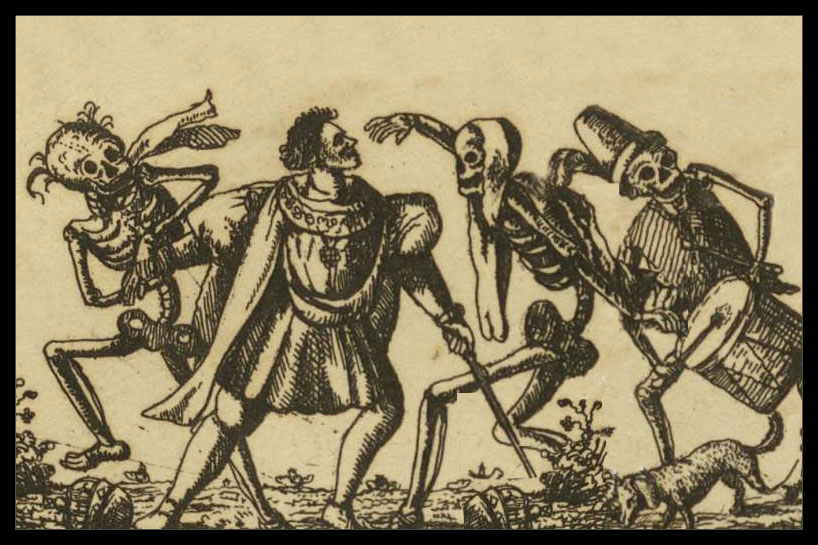 Visit the Dancing with Death page to read more about this topic.
---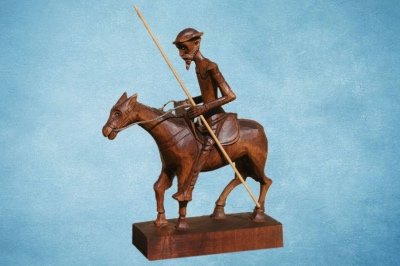 Visit the "Don Quixote" page to read more about this topic.
---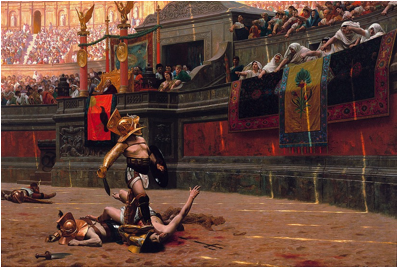 Visit the Man in the Arena page to read more about this topic.
---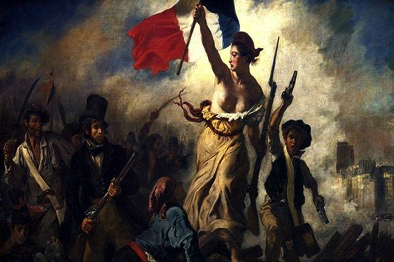 Visit the Best and Worst of Times page to read more about this topic.
11/04/16
Follow @mountain_and_me