My Head Fake
During My Last Lecture
I have a friend; his name is Mike Schmitt. He is helping me find another job. I love teaching, but there is not a great need for visiting professors of the humanities. I need to do more than teach just a couple classes here and there. Therefore, Mike and I have met several times over dinner, emailed each other, and talked on the phone about how to go about looking for a job.
Mike knows me well. He is aware of my dancing with death a couple of times, and he knows about Jack and Owen, my two grandchildren who are four and two. Mike is familiar with my transformative experience in Myanmar just over a year ago. Okay, Mike knows me extremely well. At our last dinner together, I again discussed being driven. I even reenacted another life-changing moment when Dr. Marchand looked at me and told me that I had seen the light.
I listed other driving forces in my life. Mike has heard this litany of motivators many times before. However, he was wise enough and allowed me to vent while I attempted to explain some of the things that drive me.
Realizing in the midst of my long dissertation on driving forces was not being done in chronological order, I started over. I went back to my early educational experiences. I was an above average kid in an average elementary school until my dad got a promotion and moved to Mt. Lebanon, PA. Mt. Lebanon was the 19th best school in the country located in an extremely wealthy community. What my dad did for my brothers caused some very negative notions within my mind. After going to school in Mt. Lebanon, I learned two things both of which were incorrect. I learned that I was both dumb and poor. It took half my life to realize that getting Cs and Bs at the 19th best school system in America did not translate into my being dumb.
Additionally, while my parents did not have as much money as all my friends' parents had, we were not poor. I realized that I was not dumb nor poor, but this recognition did not occur until much later in life. Nonetheless, as late as it was, it changed my life. It also explains why I love teaching. I will not allow my students to make similar mistakes as I made years ago. In reality, that truth applies to all people not just students. We do not see our true potential.
Then I told Mike about the 60s and the civil rights movement. I alluded to an experience that I had in Ozone, TN. I worked one summer while in college at the Bower Hill Community Church, which was a Presbyterian church in Mt. Lebanon. One of the pastors of the church and I went to Ozone with a dozen high students on a work camp. I was returning late at night to the church outside of Ozone where we were staying. However, a car was following me, which was my first brush with racism and the KKK.
Next, I went off discussing dancing with death twice due to prostate cancer and falling off a ladder. The fall resulted in hitting my head on a concrete wall causing a subdural hematoma and four weeks in ICU none of which can I recall. While both occurrences were at the time life threatening, I have recovered from both of them.
Then I reminded Mike about Jack and Owen. I went on about how Jack wanted to know what I was doing on a laptop while I was babysitting for him when he was three. I told Jack that I was teaching art history and explained a painting to him. He toddled off only to return to ask about another painting. His two questions caused me to realize that Jack at three wanted to learn art history. Jack is now four and knows four or five dozen paintings and the names of the artists who painted them. Jack and Owen, his younger brother, review paintings weekly with me. They now are learning about geology, zoology, and space exploration. I kid you not.
Finally, as if Mike had not heard about the issue of my legacy, I restated it again. I did not want to croak someday and not leave my family and the world in a better place to live.
Mike is patient; I went on and on about being driven at 72-years old. He is aware that I am more alive now than when I was in college, graduate school, and the civil rights movement in the 60s. Additionally, Mike is also respectful. He allowed me to talk about leaving a legacy when I die at 100+ years of age. Mike knows that one of my goals is to outlive George Burns. Burns and I were born on January 20.
Mike allowed me to vent as I reviewed material about which he was already well informed. He just let it ride. Nonetheless, while Mike is patient and respectful, he is also honest. The next day, he emails me these thoughts:
Al,
I wanted to say something to you last night, but decided to leave it. And now I'm deciding to revisit it here. : )
Let me preface this with: None of this is said to deter you from any course of action you feel is right for you at this juncture. I just wanted to present another side of the situation.
You mentioned you are seeking your legacy. You want to know what you are leaving behind when your time comes.
I would argue that you've already had a great legacy. If today was your last day on this earth, I think of all the work you have done with and for people already. As a pastor, as a therapist, and as a teacher. As a father and grandfather. You've been exceedingly lucky to have a career where you have imparted wisdom, shared knowledge, and motivated and inspired a large number of people.
I was recently reading something where the author argued that we actually do change the world every day. Maybe not in ways that alter the course of humanity, but every day, our actions and interactions with others leave an impression and do have some bearing on how things turn out.
I want you to milk your upcoming years for all they're worth. You are intensely motivated, and I want you to get all you can from the time you have here.
At the same time, when I think of the work you've already done, and how passionately you've gone about that work, there really is a legacy there already. Don't forget that.
-Mike
As is our custom, we reply quickly to each other. This is my retort, which includes my partial agreement with a major caveat.
Mike,
I do appreciate your advice. And I do think that I have done well, etc. I am proud of who I am as a person, pastor, teacher, and parent/grandparent.
However, what happened to me in Sule Pagoda, Yangon was a quasi-religious experience. One of the guides that I hired in Inle Lake was a mother with a daughter. I wish that I could have taken her daughter home with me. Her mother and I talked about Myanmar's future. The mother said that change occurred slowly there. Her daughter wouldn't see it and maybe her grandchild might. Man, that rubbed me the wrong way...in a positive wrong way.
Now, I know that I can't change the world, but I don't want to be dead and wished that I had worked harder at making this a better place. I am serious about this. That is why Jack and Owen are learning about the arts and sciences as toddlers.
I accept that I need to hold my personal dissing of myself at bay. And I need people to warn me when I am not. However, feeling both poor and dumb was a blessing. I can feel the pain of other. I'm not a female or black, but I have been pushed around and don't like it. So I save a couple; that is better than none.
Well, I am venting now. One final thing...when I get another job to help the financial situation, you will read articles about this hell turning into a blessing. It is my emotional dance with death.
Thanks also for the YouTube link of Randy Pausch's Last Lecture, which I watched. Wow. I'll tell you now that Randy Pausch's video will appear in several of my articles over the next couple of months. Steve Jobs said essentially the same thing, "Death is very likely the single best invention of Life. It is Life's change agent."
Having danced with death, you can hear the truth of what Pausch was saying. And it is also part of my legacy issue. I know that I really am not immortal better than most people who haven't danced with death.
Well, I got a class to teach and a couple of hours of writing.
Sometime, remind me to thank you.... In the meantime, take care,
Al
Mike is correct about the legacy issue. Well, he is partially correct. My grandfathers played with me and loved me in the same way that I play and love Jack and Owen. However, they both died prior to me being five. Therefore, I have no real memory of either one of them. I am concerned about living long enough for Jack and Owen to remember their papa who loves them.
In another email, Mike sent me the Randy Pausch's Last Lecture, because he saw many parallels between Pausch and me. This is the link to Pausch's Last Lecture. Interestingly, his last lecture was his last lecture. He died several months after his presentation.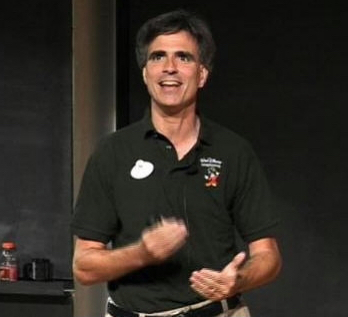 Additionally, he talks about two head fakes that he made toward the end of his Last Lecture. I thoroughly understood both head fakes especially the latter one, which I wish to address with you. The three little children are too young to remember him. Therefore, Pausch gave his Last Lecture for them. They will have his last thoughts to watch and understand years from now.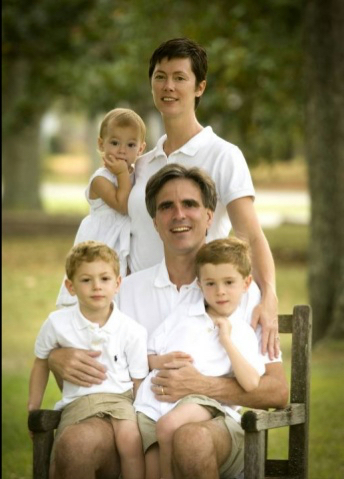 While I am not dying, I have danced with death twice. Therefore, my head fake is directly tied to Jack and Owen. They are a driving force in much of my life. However, I would only add to Pausch's truth about his last head fake. Even though I love Jack and Owen more than they can imagine right now, there are other children out there also. Ayanna, my first grandchild, and my three children, Scott, Kristin, and Michelle drive me.
Additionally, my family is a very extended family. There are the kids in the neighborhood like Emmie and Fletcher. Furthermore, my neighborhood is vast. There is Ti Ti and her two sisters in Myanmar. Additionally, some of those kids out there in the world are adults. Many of my family are hurting for a long list of reasons. Having felt my own pains of the past and present, I want to do what I can to help all my kids whoever and wherever they might be.
My last lecture explains who and why I am that way. To be blatantly honest with you, this article is not really my Last Lecture. The critically important issue is not my last lecture but yours. This is another head fake. What is your Last Lecture? I suggest that you think about your Last Lecture now. Life is all too often here today and gone to tomorrow. Tempus fugit.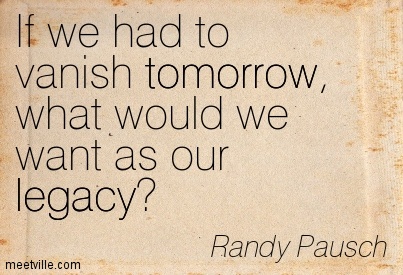 ---
This is Pausch's Last Lecture.
---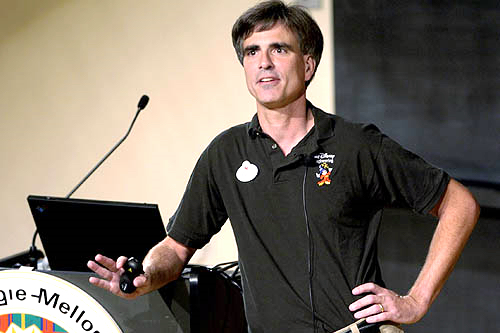 Visit the The Last Lecture page to read more about this topic.
---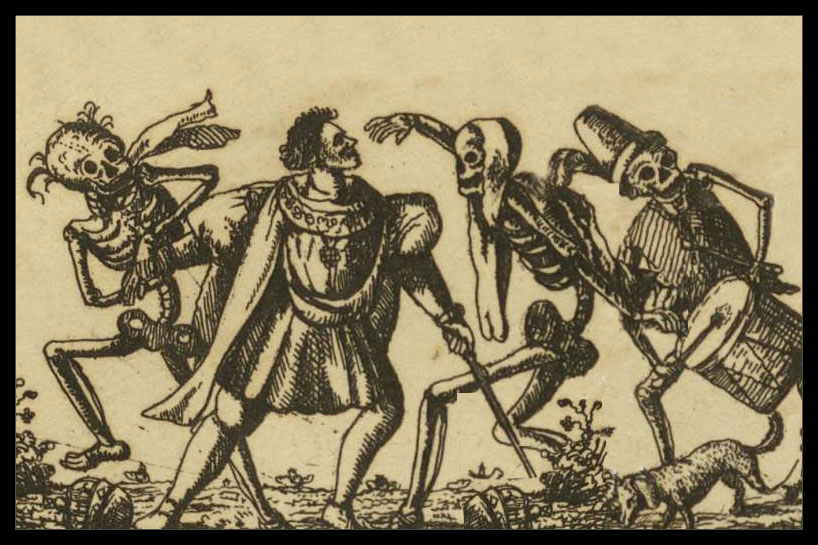 Visit the Dancing with Death page to read more about this topic.
02/03/15
Follow @mountain_and_me