Mother's Day/Father's Day
We Will Make Them a Gift
One of my joys of life is Jack and Owen, who are my two preschool grandsons. We do a long litany of things from learning about famous painters, to understanding fossils, to grasping outer space exploration, and collecting pennies. Their eagerness to learn as they begin their journey down the yellow brick road of life is fascinating.
They love to bake and cook. They make birthday cakes for their family and decorate the cakes with their favorite characters from the Ninja Turtles to Star Wars. They have made snickerdoodles, oatmeal raisin cookies, and sand tarts. Additionally, they made broccoli salads and decorated chocolate covered strawberries. They love new experiences. However, I watch their sheer joy in trying something for the first time and seeing it come together excited me just to watch.
However, when they make something for their mother or father, that gets them truly excited. A couple of months ago, I got the idea of Jack and Owen recreating Goldilocks and the Three Bears. We would modify that fairy tale a bit. They would have a mommy and daddy bear along with them as the two little bears. I saved plastic containers that were sold with honey in them. The containers were in the shape of bears. As a result, it wasn't long before I had two big bears and two little bear containers.
Then on one of my visits, we read the story again about Goldilocks and the Three Bears and talked about how we could update the storyline. The following week began their creative excitement. First, they had to fill the 4-bears with sand.
Filling four plastic bears is more time consuming than you would believe. However, they finally completed that task.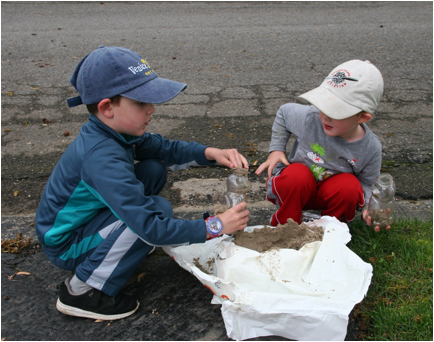 The next task was to label each of the four bears with the appropriate name for each of the bears: Mommy, Daddy, Jack, and Owen.
Owen is printing his name on his bear's label.
Jack is sticking the label on the Daddy Bear.
Jack is practicing his printing for his paperback version of the four bears. This is going to be their present for Mother's and Father's Day. Finally, the finished product.
Jack is holding their version of four little bears and Owen is pointing to them.
06/22/16
Follow @mountain_and_me