Fiddler on the Roof
Or How to Become Learned
When Jack was three years old, I was teaching an online art history class. He wanted to know what I was doing. That was three years ago. Today, he can identify dozens of paintings and name artists that include painters like Chagall, Turner, Monet, Michelangelo, van Gogh, Vermeer, Rembrandt, Cassatt, El Greco, Picasso, and Seurat. Nonetheless, the artist that caught his imagination very early on was Marc Chagall. He knows several of Chagall's paintings, but his favorite is I and the Village. The other painting of Chagall about which we have discussed at great length is The Fiddler.
In the past year or so, Jack will take picture of Owen or me. He has become very good at taking pictures. He wanted to include this photo of me in this essay.
Interestingly, Chagall's painting inspired Sholem Aleichem to begin to write Tevye and His Daughters, which was about being Jewish in Russia's Pale of Settlement prior to the Russian Revolution. However, Aleichem writes about being Jewish from a personal perspective. Tevye has five daughters and three of them wanted to marry non-Jewish husbands. Unfortunately, Aleichem dies before finishing the novel, which was completed by others in 1919. That novel became the basis of the play and movie, Fiddler on the Roof. I have discussed the relationship between Chagall's The Fiddler and Aleichem's Fiddler on the Roof with Jack and Owen. Owen, who is three, has begun the same journey that his brother started at three.
Now, why do I care about Jack and Owen learning about artists and the relationship between other artists and other art forms? Why do I want them to learn?
Your response is that I love them, which is correct. However, that doesn't explain the degree to which I am so driven about their learning. What follows is as honest as I can put it. I don't want Jack and Owen to make the same mistakes that I made while growing up.
I went from an above average child in elementary school in Pennsauken, NJ to feeling dumb when my parents moved to Mt. Lebanon, PA. Pennsauken was an average community and school system, like the vast majority of towns across America. On the other hand, Mt. Lebanon was both an extremely wealthy community and the 19th best school system in the country. It took me half my life to realize that my comparing myself to the other students at Mt. Lebanon did not mean I was dumb.
That experience at Mt. Lebanon also explains why I am still teaching at 73 and will continue as long as I live. Nonetheless, it also explains why I am so driven to teach my preschool grandsons. In reality, their brains are in a critically formative time of development.
Jack and Owen know about artists. In addition, they know about fossils, and space exploration. How many adults in America know the difference between Starry Night and Starry Night over the Rhone? What percentage of Americans can identify a trilobite from an ammonite? Or how many people understand the Rosetta Mission and how it is related to the Rosetta Stone? Not many. However, Jack and Owen know.
Having made my point about their level of learning, what is far more important than those two boys' knowledge of facts about which most Americans are oblivious, is what is happening inside their brains. This chart shows the development of a newborns brain, what it looks like in six months, and in two years. Essentially, the neurological development of an infant's brain grows connections within the brain. The more the child sees and experiences, the more the brain develops. The converse is equally true.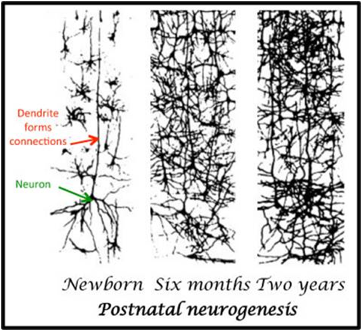 While I am happy for Jack and Owen with their ability to dazzle their parents with knowledge and how that positively affects their self-esteem, it is far more critical what is happening within their brains. That is absolutely essential. If their brains do not expand and grow, it will adversely affect them for the rest of their lives.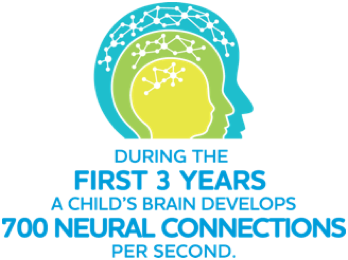 Next week, Jack and Owen will hear my preschool lecture of El Greco's View of Toledo.
They will also learn about An Old Man and his Grandson by Ghirlandaio.
Surely, it will be fun and interesting for Jack, Owen, and me. I love teaching and watching learning take place. However, imagine what is happening with the synapses, dendrites, and neurons inside their brains. That is more important than recognizing View of Toledo or An Old Man and his Grandson. Nonetheless, we will have loads of fun talking and laughing about both paintings.
Oh, one other thing. One of the boys will ask about whether the old man in red is the little boy's papa. I will respond that they are like the child and I am like the old man. I'll then ask them whether that old man loves his grandson as much as I love them? Talk about a meaningful event in a grandfather's life.
---
For more information for the brain development, click on Talk to an Infant's Brain.
06/13/16
Follow @mountain_and_me