CIGARS FOR STUDS
In preparation for my interview with Studs Terkel, I thoroughly researched this literary icon. By the time of the interview, I felt that I had known Studs for years. I knew his history, books, stories, and even the punch line to many of his jokes. I even discovered the brand of his favorite cigars.
It was then that it came to me. Studs was doing me a favor consenting to sit for an interview with someone who has not yet made it to the literary big leagues. I decided to bring him some cigars as a token of my appreciation. No sooner had that idea crossed my mind than I got another creative brainstorm. Wouldn't it be a hoot to have a picture of the two of us puffing on a cigar as if we were old writing buddies?
Thinking that it would be easier to get Studs' favorite cigars in Chicago, I waited until I drove to Chicago for the interview to purchase them. I arrived downtown with just enough time to run into a cigar store and get my gift. Well, it wasn't as easy as I thought it would be. I drove all over looking for a store. If I hadn't been looking for a cigar store, I would have run into plenty of them. After wasting precious time, I finally found the Blue Havana Cigar Shop. I parked in a tow away zone and ran in. The salesperson that greeted me looked like she belonged in a twenties-something boutique. Her name was Sue. Hurriedly, I told her the brand that I wanted. When she started to rattle off the various varieties with that brand name, I suddenly realized that I should have spent more research time on his cigars. I explained that I didn't know the type I wanted, but I did express that I was pinched for time. She assured me that I had nothing to worry about; she would help me and escorted me into a walk-in humidor that looked like a cigar's Fort Knox.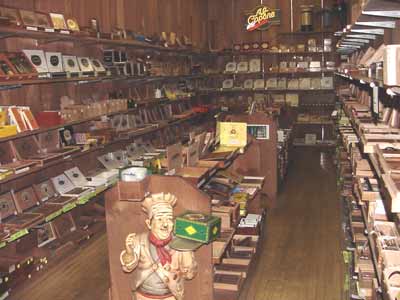 As Sue showed me the various varieties, she would describe the aroma. I acted both interested and impatient-a nice trick if you can pull it off. She asked, "A gift?" I nodded that the cigars were a gift. Then I made a mistake. I told her that I was interviewing someone for my newspaper column. She asked who I was interviewing, and I told her that it was Studs Terkel. It rapidly became apparent that I had not conveyed my impatience quite enough. My salesperson stopped what she was doing and told everyone else in the humidor that I was interviewing Studs Terkel. I was dumb-founded! She was barely old enough to sell cigars, and she knew Studs as if he had been a MTV regular.
There I was in a hurry to purchase a box of cigars and get to the interview while attempting to settle down Sue from her vicarious euphoria. All the while, the clock is ticking later and later as I agreed that I was fortunate to have the opportunity of even meeting Studs. Finally, she got back to the task at hand-now that everyone in the shop knew who I was interviewing and that he was going to get a box of cigars.
With the care of a tobacco aficionado she finally said, "I think that these would be something that Studs would like." Sue proudly presented the box to me as if they were rare pearls. As I took the box from her, we both noticed that one cigar was missing. She hastily took the box back knowing that it would be inappropriate to present a cigar connoisseur a box with one missing. That faux pas would send the wrong message: I liked my gift for you so much that I had to smoke one of them. However, it wasn't long before she found a full box, and I was ready to check out.
As Sue swiped my credit card for my purchase, I hoped that my CPA would approve of this expense item on my taxes next year. While waiting to sign the sales slip, my hand ran across the raised lettering of the box. I picked up my gift to admire it and noticed the writing on the side of the box, "SURGEON GENERAL'S WARNING: Smoking by Pregnant Women May Result in Fetal Injury, Premature Birth, and Low Birth Weight." I thought that had I had more time, I would have gone back to try to find a box without a gender specific warning, but I was already late for the interview.