Booth Died 150 Years Ago Today
How Has America Changed?
Today, April 26, 2015, is the 150th anniversary of the death of John Wilkes Booth who died from a gunshot wound twelve days after he shot President Abraham Lincoln. Therefore, it is a good time to look to the past, which will help us to understand the present. A century and a half ago, Lincoln went to the Ford's Theatre on April 14, 1865 to watch

Our American Cousin

. Booth entered the Presidential Box were Abraham Lincoln, Mary Todd Lincoln, Clara Harris, and Major Henry Rathbone were watching the play. Booth shot Lincoln around 10:15 pm.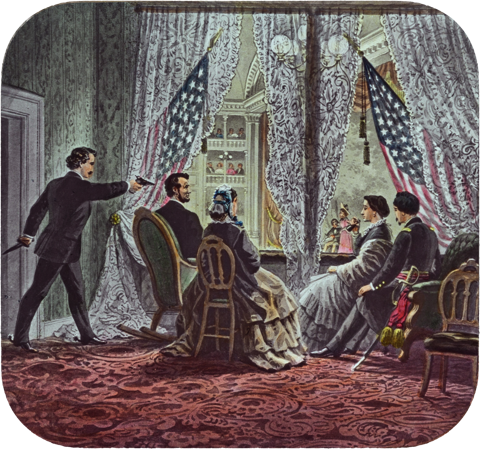 Booth used this .44-caliber derringer pistol to kill the president.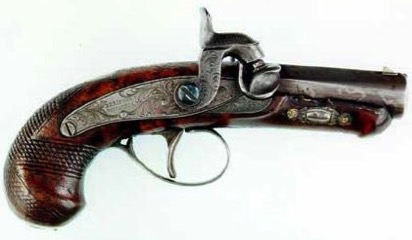 The bullet entered the back of Lincoln's head. Major Rathbone attempted to capture Booth by wrestling with him. However, Booth stabbed Rathbone, and then jumped to the stage. Witnesses claimed that he shouted, "Sic Semper Tyrannis," which is Latin for "Thus always with tyrants." Then Booth exited the theater.
While Booth fled toward Virginia, the federal government began the search for Booth and his accomplices, including circulating this wanted poster.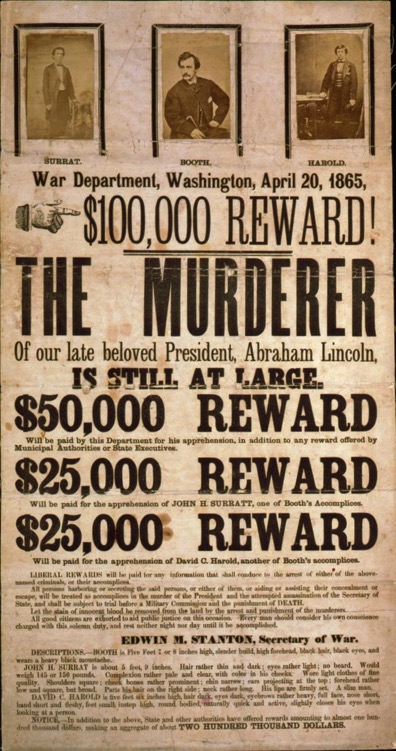 Thus began Booth's 70-mile long escape journey after shooting Lincoln.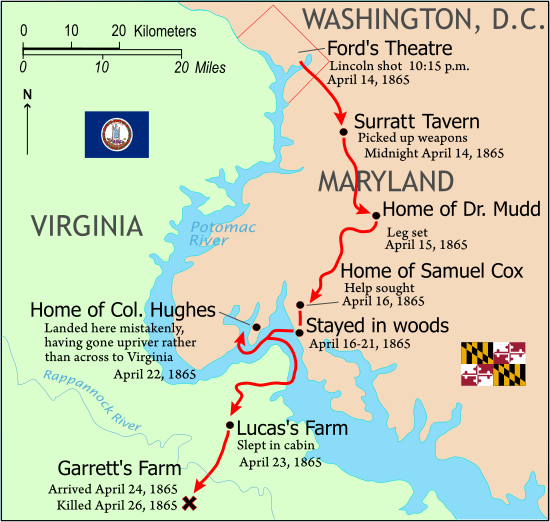 A couple hours after the shooting, Booth went to the Surratt Tavern, which Mary Surratt owned. Booth and one of his accomplices, David Herold, retrieved additional guns that they had hidden. Early the next day, April 15, at 4 am, Booth went to the home of Dr. Samuel Mudd to get his broken leg set, which he broke while jumping from the Presidential Box to the stage of Ford's Theatre after shooting the president.
The following day, Booth and Herold reached Samuel Cox's home, and spent the nights of April 16 to the 21 in the woods hiding from the Union soldiers fearing that they search the Cox house. Next, they wound up at the home of Colonel Hughes, since they had gotten lost while crossing the Potomac River on April 22. They spent the night of the 23 of April in the cabin of William Lucas. Interestingly, Lucas was a free slave. However, Booth was a racist and forced Lucas and his family to sleep outside while he and Herold stayed in the Lucas cabin.
Booth's escape trail wound up at the Richard Garrett farm on April 24. Since the 16th New York Cavalry was nearby, they stayed in Garrett's barn used for curing tobacco. The Union soldiers reached the Garrett farm around 2 am on April 26 and found Booth and Herold hiding in the barn. Herold surrendered, but Booth remained in the barn. Several soldiers started to set the barn on fire. Sergeant Boston Corbett looked between the slats of the barn and could see Booth inside. Corbett shot Booth fearing that he was about to shoot either Herold or a Union soldier standing outside the barn.
Lieutenant Edward Doherty, the commander of the squad of twenty-six Union soldiers that finally found Booth, wrote this regarding Booth's last hours.
I had placed Sergeant Boston Corbett at a large crack in the side of the barn, and he, seeing by the igniting hay that Booth was leveling his carbine at either Herold or myself, fired, to disable him in the arm; but Booth making a sudden move, the aim erred, and the bullet struck Booth in the back of the head, about an inch below the spot where his shot had entered the head of Mr. Lincoln. Booth asked me by signs to raise his hands. I lifted them up and he gasped, 'Useless, useless!' We gave him brandy and water, but he could not swallow it. I sent to Port Royal for a physician, who could do nothing when he came, and at seven o'clock Booth breathed his last. He had on his person a diary, a large bowie knife, two pistols, a compass and a draft on Canada for 60 pounds.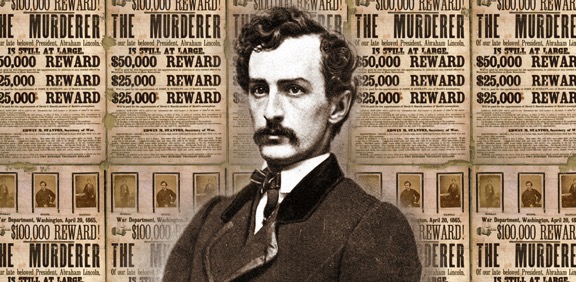 Lieutenant Doherty found a diary in which Booth wrote two interesting comments. The first is about the aftermath of the killing of President Lincoln. Booth wrote, "Our country owed all her troubles to him, and God simply made me the instrument of his punishment." Booth expressed his delusion of grandeur in his plot against Lincoln. Booth saw himself as merely doing God's work.
The other comment related to Booth's plight of not having anyone helping him in his attempted escape, "With every man's hand against me, I am here in despair. And why; for doing what Brutus was honored for...And yet I for striking down a greater tyrant than they ever knew am looked upon as a common cutthroat." Booth's reference about Brutus was from Shakespeare's Julius Caesar. Booth was just doing what Brutus did for the Roman Empire by killing Caesar. Interestingly, his father's name was Junius Brutus Booth, who was a noted Shakespearean actor along with Booth and his brothers.
You should be asking at this point, so what? What is the point of this article? While you might have learned some details about which you were not familiar, however, is that the only point of this essay? We tend to view Booth as just some crazy person who hated Lincoln. He obviously was a racist and supportive of slavery.
While Booth was that and more, he delayed America's dealing with slavery. It is true that the North won the Civil War, but it also true that it lost the peace. Within a handful of years, segregation simply replaced slavery. Segregation was slavery without the chains. Segregation became the law of the land. In the South, it was the written law for another century.
After a century segregation especially in the South, President Lyndon Johnson got two critically important bills through Congress related to segregation. The Civil Rights Act in 1964 and the Voting Rights Act in 1965 might not have been needed had Booth not killed Lincoln. We cannot rewrite history, but racism could have been addressed better than it had during the century after the Civil War. In reality, the South merely went back to a modified form of slavery.
One hundred and fifty years ago, Booth was killed but lives on in America in 2015. There are 34-States with voters ID laws in place. Ask yourself, for whom are these laws to restrict?
Beyond restricting blacks to vote, a couple of times each month, police gun down a black male or kill him during an arrest. In the overwhelming number of cases of these shootings or deaths due to unlawful arrest techniques, grand juries do not charge the white police officers.
Additionally, a segment of Americans dislikes President Obama due to his race. This group of Americans is called the birthers. They claim that Obama was born in Kenya. Aside from that nonsense, there are a couple problems with the beliefs of the birthers. At one level, Obama is not our first black president but our first biracial president. At another level, all Americans, in fact the entire world, descended from people who came out of the area called present day Kenya around 200k years ago.
Therefore, on the 150th anniversary of the death of Booth, how much have we matured as a nation on the issue of racism? Eventually, all of us will die. The central question should be asked, what is the legacy that you will leave your family and your larger American family? How will we be remembered? Booth left a shameful and disgraceful legacy.
Choose wisely the legacy that you will leave.
---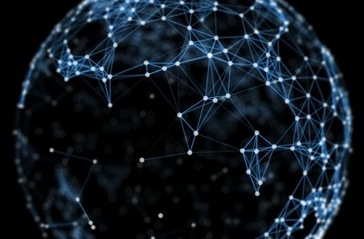 Visit the Connecting the Dots page to read more about this topic.
---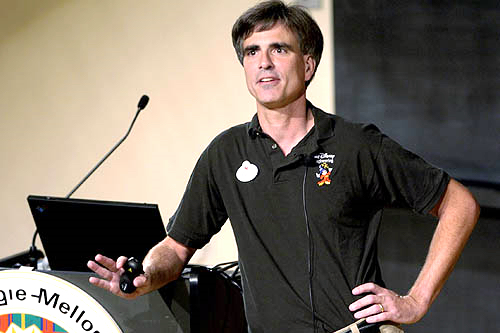 Visit the The Last Lecture page to read more about this topic.
---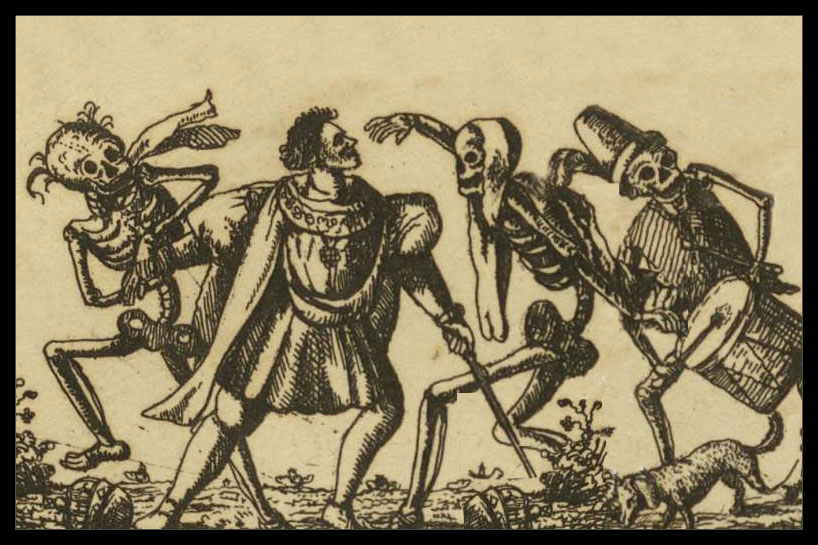 Visit the Dancing with Death page to read more about this topic.
---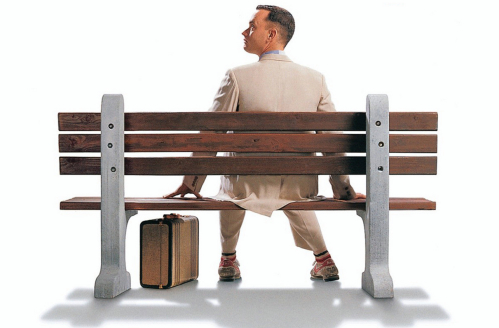 Visit the Stupid is As Stupid Does page to read more about this topic.
04/26/15
Follow @mountain_and_me