SCOTLAND WILL BE
BETTER TOGETHER
...
Really?
Let me get all my cards on the table. I teach history at the college level and went to Scotland this past spring to do research on the Scottish independence vote scheduled in exactly a year from today. I was there nearly a month and asked formally or informally nearly everyone that I met. Another card is that I had been to Scotland 45-years prior as a post-graduate student at the University of Edinburgh at New College. Finally, my father's side of the family came from Scotland many generations ago. Therefore, what happens in Scotland interests me personally.
A year and a half ago, I came across on the Internet an article about the referendum scheduled for next September 18, 2014. To be frankly honest, I questioned its need or validity. A half century ago when I studied there, it was not even a backburner issue. I would find a couple old-timers at some Edinburgh pubs that would talk about the good old days when Scotland was last a free country. However, that was prior to 1707.
While I read about the issues facing the Scots, I became a true believer as an American who had some distant Scottish blood inside me. When I was in Scotland several months ago, there were many polls that showed roughly a three way split among the Scots on the issue of independence. A third are for independence, a third are against independence, and a third have not even considered the matter to decide either way.
While I am ethnically Scottish and in favor of their independence, I am troubled by the two-thirds of Scotland that is against it or those who have not given it much thought. That has gotten under my kilt. Finally, Scotland has a Scottish Parliament...its first since 1707. Scotland has not had what we in the States would call a state legislature for nearly 3-centuries. Issues regarding Scotland were decided at Westminster. If you click on many articles, you will see a long list of articles written about Scottish independence in the past couple of years. I do not want to rewrite words already written about the issue in this article. Nor do I want to restate my position from an NPR interview with me regarding independence. When you have the time, you can read them or listen to the interview. If you go to interview section of my webpage, you can read two additional interviews with two Scots: Doug Norris and the Duke of Argyll.
In this article, I want to approach the discussion from the vantage point of those especially in England who wish to have Scotland remain a part of the UK. It should be noted that Hadrian's Wall was specifically built to keep the barbaric Scots from England in 122 AD. Having said that, why are the English desirous of remaining together with Scotland? They have an organization and a slogan to rally supporters against Scottish independence. The slogan is "Better Together". In other words, all will benefit from Scotland remaining a part of the United Kingdom.
While you mull over that notion of things being better together, I would like to give you a brief overview of England, Great Britain, and/or the United Kingdom. In less than a century ago, the British Empire was the largest empire in human history. It had a population of 458-million people, which was a fifth of the world population and covered a fourth of the landmass of the world, which was 13,012,000 square miles. It was true that it was "the empire on which the sun never sets." In an attempt to think about Scotland being better together, it would seem logical to address what has happened to the British Empire...the largest empire of all time. This is an interesting animated map of the world starting in 1492 and covers just over 500 years to the present. It provides pictorially the amassing of the empire on the map of the world.
While the automated map is interesting, it does not address the issue of why was it not better together. I have put together with Wikipedia's help a list of countries, protectorates, colonies, or area occupied by the English, the British Empire, Great Britain, and/or the United Kingdom. The date next to the area is when the British took possession of the part of the world. To assist you in seeing more clearly the issue of whether being better together is correct or not, I indicated in red the areas that are still a part of the UK. All other areas are independent of the UK.
Africa:
Cape Colony 1871
Basutoland (Lesotho) 1884
Bechuanaland Protectorate (Botswana) 1884
Bight of Benin 1852
Bight of Biafra 1861
British Bechuanaland 1885
British Cameroons 1919
British East Africa 1895
British Somaliland 1884
Cape Colony 1806
Egypt 1882
Bioko 1827
Gambia Colony 1827
Gold Coast 1874
Kenya 1920
Lagos 1906
Southern Nigeria 1900
Libya 1906
Natal 1856
Niger 1856
Nigeria 1954
Northern Nigeria 1900
Nyasaland (Malawi) 1891
Orange River Colony (South Africa) 1900
Rhodesia (Zimbabwe) 1888
Sierra Leone 1787
South Africa 1910
Sudan 1899
Swaziland 1893
Tangier 1661
German East Africa 1916
Tanganyika Territory 1922
Tati Concessions Land 1872
Transvaal (part of South Africa) 1877
Uganda 1890
Walvis Bay (part of South Africa) 1795
Zanzibar 1890
Zululand 1887
Northern America
Assiniboia 1812
Avalon (Newfoundland) 1623
British Columbia (Canada) 1858
Canada 1841
Cape Breton Island 1841
Carolina (part of North and South Carolina) 1586
Cuper's Cove (Newfoundland) 1610
East Florida (USA) 1763
Georgia 1732
Labrador 1763
Lower Canada 1791
New Brunswick 1784
Newfoundland 1497
North-Western Territory (Northwest Territories of Canada) 1859
Nova Scotia 1654
Prince Edward Island 1744
Quebec 1763
Renews (Newfoundland) 1610
Roanoke Colony (USA) 1586
Rupert's Land (Canada) 1610
St. Pierre and Miquelon 1713
South Falkland 1623
Stikine Territory 1862
Upper Canada 1791
Vancouver Island 1849
Virginia (USA) 1607
West Florida (USA) 1763

Central America and the Caribbean
Anguilla 1650 still a part British Overseas Territory
Antigua 1632
Aruba 1799
Bahamas 1670
Barbados 1624
Barbuda 1628
Bay Islands (part of Honduras) 1643
Bonaire 1807
British Honduras 1655
British Virgin Islands 1666 still a part British Overseas Territory
Cayman Islands 1670 still a part British Overseas Territory
Cuba 1762
Curacao 1800
Dominica 1763
Grenada 1762
Guadeloupe 1759
Ile de la Tortue and Saint-Domingue 1655
Jamaica 1655
Leeward Islands 1671
Martinique 1762
Montserrat 1632 still a part British Overseas Territory
Mosquito Coast (part of Nicaragua) 1668
Nevis 1628
Redonda 1872
Saba 1665
St. Christopher 1623
St. Christopher and Nevis 1882
St. Eustatius 1665
St. John 1801
St Lucia 1605
Saint Martin 1690
St. Thomas 1801
St. Vincent and the Grenadines 1627
Tobago 1762
Tortuga 1631
Trinidad 1802
Trinidad and Tobago 1889
Turks and Caicos Islands 1799 still a part British Overseas Territory
South America
Berbice 1781
British Guiana 1831
Demerara 1781
Demerara-Essequibo 1814
Essequibo 1781
Oyapoc 1620
Pomeroon 1666
Willoughby 1652
Asia
Aden 1839
Afghanistan 1839
Assam 1874
Bahrain 1880
Baluchistan (part of Pakistan) 1877
Bantam 1603
Bencoolen 1685
Bengal 1634
Brunei 1888
Burma 1824
Ceylon 1795
Hong Kong 1841
Kuwait 1899
India 1613
Java 1811
Malaya 1824
North Borneo and Victoria (part of Malaysia) 1882
Palestine 1920
Sarawak (part of Malaysia) 1888
Straits Settlements 1826
Qatar 1916
Surat (part of India) 1612
Singapore 1824
Transjordan 1920
Trucial States (part of United Arab Emirates) 1892
Weihaiwei (part of China) 1898
West Bengal 1905
Europe
Akrotiri and Dhekelia 1960 still a part British Overseas Territory
Alderney 1198
Calais (part of France) 1347
Corsica (part of France) 1794
Cyprus 1878
Dunkirk (part of France) 1658
Gibraltar 1704 still a part British Overseas Territory
Guernsey 1198 British still own it
Heligoland (part of Germany) 1807
Ionian Islands (part of Greece) 1809
Ireland 1172 (Northern Ireland still a part of UK)
Isle of Man 1266 crown dependency
Jersey 1204 bailiwick
Malta 1800
Minorca (part of Spain) 1708
Scotland 1707
Wales 1282 limit devolution 1999
Antarctic Region
British Antarctic Territory 1962 still a part British Overseas Territory
Enderby Land (part of Australian Antarctic Territory) 1930
Graham Land 1832 British Antarctic Territory
South Orkney 1821 British Antarctic Territory
South Shetland 1819 British Antarctic Territory
Victoria Land 1841 (part of Australian Antarctic Territory)
Atlantic
Bermuda 1612 still a part British Overseas Territory
Falkland Islands 1766 still a part British Overseas Territory
Saint Helena, Ascension and Tristan da Cunha 1588 still a part British Overseas Territory
South Georgia and South Sandwich Islands 1775 still a part British Overseas Territory

Indian Ocean
Andaman and Nicobar Islands 1789
Ashmore Island 1878
Cartier Island 1909
British Indian Ocean Territory 1810 still a part British Overseas Territory
Christmas Island 1888
Cocos Islands 1825
Dansborg 1801
Frederiksnagore 1801
Maldives 1796
Mauritius 1809
Reunion 1819
Seychelles 1794
Australasia and the Pacific
Australia 1901
Baker Island 1886
Bonin Islands 1827
British New Guinea 1884
Cook Islands 1888
Coral Sea Islands 1879
Fiji 1874
Friendly Islands 1889
Gilbert and Ellice Islands 1892
Howland Island 1886
Jarvis Island 1889
Lord Howe Island 1788
Macquarie Island 1819
Nauru 1914
New Hebrides 1824
New South Wales
New Zealand 1769
Niue 1889
Norfolk Island 1788
Palmyra Atoll 1889
Pitcairn Islands 1838 still a part British Overseas Territory
Queensland 1824
Samoan Islands 1889
Sandwich Islands 1794
Solomon Islands 1889
South Australia 1788
Tasmania 1889
Tokelau 1889
Torres Strait Islands 1879
Tuvalu 1975
Victoria 1839
Western Australia 1791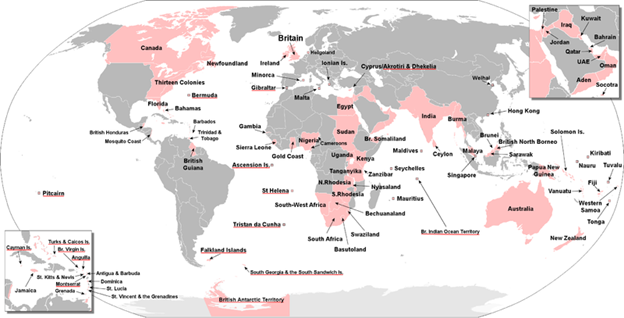 Therefore, of the 208 areas of the world occupied by the British over the years, 14 areas remain. Another way to look at the facts, 6% of the original total still remain. One might assume that they feel better together. As for the others, one might also assume that they like the Americans did not feel better together...and left.
This is what remains of the largest empire in all-human history: Anguilla, Bermuda, British Antarctic Territory, British Indian Ocean Territory, British Virgin Islands, Cayman Islands, Falkland Islands, Gibraltar, Montserrat, Pitcairn Islands, Saint Helena, Ascension and Tristan da Cunha, South Georgia and South Sandwich Islands, Turks and Caicos Islands, and Sovereign Base Areas of Akrotiri and Dhekelia. That land mass is less than 28,000 square miles and just over 274,000 population. It should be noted that both numbers do not reflect the 660,000 square mile area of the British Antarctic Territory and the 250 scientists stationed there.
The size of the total of the British Overseas Territories (excluding the British Antarctic Territory) in square miles is about the size of West Virginia. As for total population (again, excluding the British Antarctic Territory), it falls between Plano, TX and Greensboro, NC.
Another interesting comparison is between the population of British Empire in 1920 and that of the UK plus the British Overseas Territories as of 2011 is just over 13% of the Empire's population, which is comparing totals of population one reflecting 1920 and the other 2011. The UK's population in the past century increased by roughly a third. Therefore, the comparison between the population at the height of the British Empire and today moves from around 13% to closer to less than 10%. An even more startling comparison is between the landmass of the British Empire in 1920 and that of the UK plus the British Overseas Territories is today. The UK including the British Overseas Territories is less than 1% of what it was less than a century ago.
In conclusion, those that say that they would all be better together might say it. However, in reality, only 14-size small areas of the world agree that staying together is better. Less than 10% of the former British Empire sees it that way. The only remaining question is whether the Scots will wake up and smell the heather and vote for independence.
In a dry rehearsal of what should happen in a year from now, Prime Minister David Cameron tested his response to the people of Scotland vote for independence with this one-liner starting at time stamp 1:55 and going to 2:14.
09/18/13
---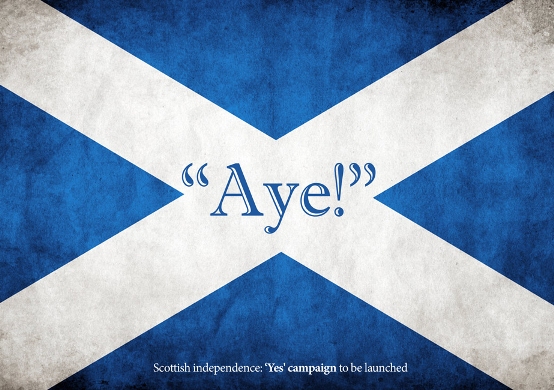 Visit the Scottish Independence page to read more about this topic.
Follow @mountain_and_me