BENJAMIN FRANKLIN HELPED JACK,
AND JACK HELPED BENJAMIN FRANKLIN
We went down to Indianapolis this past week as we normally do. We have gotten into this routine of babysitting for our grandson. One can tell he needs to see his grandparents at least weekly. This week, Jack's parents had a plumbing problem. The sewage line out of their house had been backed up, which resulted in water in their basement. They called Benjamin Franklin Plumbing in Indy. They came out that day even though they had over 200-calls that day because of other plumbing problems mostly due to flooding problems related to the spring thaw. Nevertheless, Chris and Caleb from Benjamin Franklin came out to help Jack's parents...in part because of Jack, who is 8-months old, and the house was having serious water problems. I was impressed by Benjamin Franklin.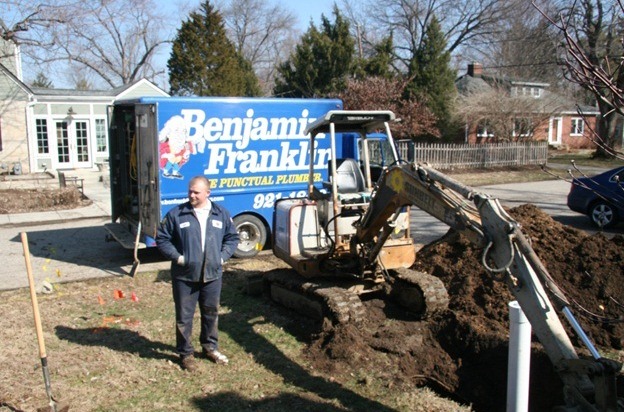 They came out dug the hole in their front yard, figured out how to resolve the problem, and came back the next morning to replace the drainage pipe. Jack watched them while we babysat for him on Tuesday. After Chris and Caleb put in several hours in the morning, they had to wait several more hours for the inspector to show up, which delayed the completion of the job. Jack and I listened to Chris explaining the problem to someone in the inspector's office. Chris wanted to get the inspection done ASAP so that they could use the water in the house. I was impressed by Benjamin Franklin.
Jack was also impressed by their hard work and getting the okay from the inspector quickly that he wanted to lend a hand to Chris and Caleb-two of the nicest employees that we ever met. While the guys were getting ready to complete the job, Jack asked them if he could help them. They suggested that he could help by using the backhoe.
As a result, Jack put in a couple hours to fill the hole in the front lawn. However, after a couple hours Jack needed his 2:30 feeding and a nap.
Chris and Caleb thanked him while my wife, Ann, changed his diapers, fed him, and put him down for a well-deserved nap.
If you live in Indy and need a plumber call Benjamin Franklin Plumbing (800) 471-0809 or visit them at www.benfranklinplumbing.com. Their nickname is the Punctual Plumber, which is true. However, they are honest, hardworking, absolutely interested in the needs of their customers, and are both friendly and well-informed workers. I live in Crown Point, IN, which is about 150-miles from Indy. If I ever need excellent plumbers, my first thought would be that I wished we lived closer to Indy, and I would call them. Nevertheless, if you live in the Indy area and you have a plumbing problem, I know who to call. I would call Benjamin Franklin Plumbing at (800) 471-0809. While their corporate nickname is the Punctual Plumber, I'd suggest: The Honest, Hardworking, Absolutely Interested in the Needs of Their Customers, and Are Both Friendly and Well-informed Plumbers. Perhaps that would take too much space on their trucks.... At any rate, I was very impressed by Benjamin Franklin.