A 21st Century Unicorn
A Creative Moment
There we were, my two clones of Marc Chagall, Jack and Owen, creating clones of unicorns in the 21st century like those of a time long ago and far away.
Owen is using blue and gold for his unicorn.
This was after we had discussed the development of unicorns in history and the arts. Jack and Owen know about the history of the legend of the unicorn. Owen bought the notion of unicorns without any hesitancy. However, Jack wanted more clarification about whether unicorns were real. It was cute how he questioned me about their authenticity. I told him that I have never seen one in real life, but that throughout history, unicorns have been a part of many cultures throughout the world dating back, in some cases, many millennia. This is one from ancient China.
This next photo is a unicorn from the Indus Valley, which was a part of the Harappan civilization. This civilization emerged in the area called the Punjab and dated back about five millennia ago.
I have decorative plates in my office wall depicting unicorns from the time of the Renaissance.
After attempting to allay concerns expressed by Jack, I suggested that we could create two unicorns in Indianapolis. In fact, we could name them Jack Unicorn and Owen Unicorn. I told them to keep this a secret from their parents, but, next week, we would magically make them into unicorns. The following week the transformation began.
Jack is attaching tape to a Styrofoam cone.
The next creative moment was attaching the horns to their heads. Both the boys were a bit concerned about the procedures of attaching the horn to their foreheads. I assured them that Velcro would work.
Jack wasn't sure that my wonderful notion would work.
Owen's horn drooped and needed an adjustment.
Jack's horn also needed to be adjusted.
Finally, after the Velcro was tightened on both boys' heads. We went outside and painted their horns blue and gold.
These are Jack's photos of me spray-painting the horns.
Finally, they became unicorns. "Now, wait until Daddy gets home. We will scare him."
This is Jack Unicorn.
This is Owen Unicorn.
---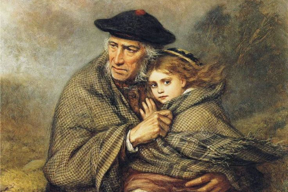 Visit the "The Hand May Be a Little Child's" page to read more about this topic.
06/29/16
Follow @mountain_and_me