Don Quixote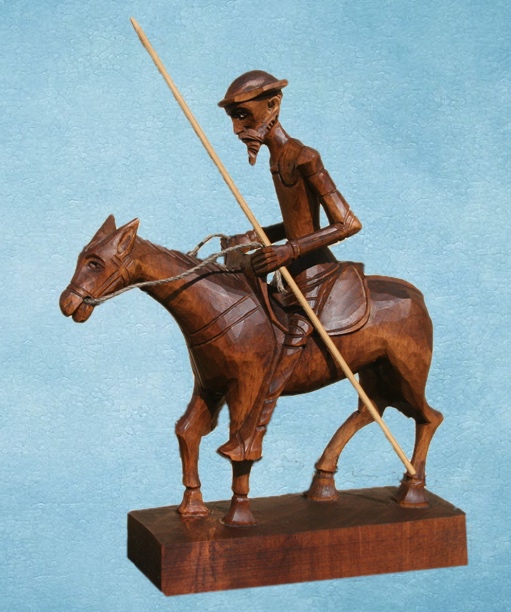 I have followed the exploits of Don Quixote, the man of La Mancha, for several decades. He is one of my mentors, and I felt as if I understood Miguel Cervantes' character better than most Americans.
However, I danced with death a couple of times and then watched Randy Pausch's Last Lecture. The dances and the Last Lecture were transformative moments for me. Doing the dance caused me to rethink everything I thought that I knew about life.
What is true about the Last Lecture is equally true regarding Don Quixote. Years ago, I could not fully comprehend what his mindset was at his age in life, since I was not at that age and hadn't danced with death. Nonetheless, I grasp his insights, his struggles, and his will to obtain his quests.
Dance with death and life comes into a far clearer focus. My understanding of Don Quixote is influenced by Randy Pausch's Last Lecture and Teddy Roosevelt's Man in the Arena. I have a radically different Weltanschauung (worldview) than I had when I was first introduced to Don Quixote many years ago.
---
Ginger's Explanation...

For Her Man Cave

03/13/17
Shrimp Can Whistle

"I dream things that never were and say, why not."

03/08/17
Invictus

Thank You, Mrs. Davis

03/06/17
A Dog's Purpose

The Person's Purpose

03/03/17
Robert the Bruce

I'll Drink to Him!

02/17/17
Moh Moh's Email

Big Dreams Never Run Smooth

12/02/16
Tom Brokaw...

Another Dancer

11/16/16
On the Road Again...

Like a Gypsy

11/07/16
The Lady

And the Peacock

11/04/16
Dostoyevsky Danced with Death

As a Result, Became a Great Writer.

11/02/16
A Bridge Too Far

Isn't Always the Case

10/14/16
What a Difference a Few Years Makes

If You Are Joisting with Windmills

10/10/16
I Challenge the Trim Trump

To Test His Stamina Against Mine

10/03/16
The Donald as the Dark Knight He

Ain't

Don Quixote
09/19/16
Moh Moh Spoke

And She Sounded Like Don Quixote

09/09/16
Return to Myanmar

Dream Big

09/02/16
Rediscovering the Past...

Eleanor Roosevelt

08/31/16
The Meaning Behind the Man

The Man of La Mancha

08/29/16
Listening to My Mentors

And Dreaming Impossible Dreams

08/19/16
We Must Address Conservativism...

For Two Essential Reasons

08/05/16
The Queen's Haunting...

Bohemian Rhapsody

07/27/16
Last Words

Or Don Quixote's Joists with Windmills

07/04/16
"I Come in a World of Iron...

To Make a World of Gold."

06/27/16
My Sherpa Statue Spoke

A Valuable Time Spent Listening

06/17/16
The Angel Spoke...

And I Listened.

06/10/16
The Relationship Between Death and Life

Death Can Cause Us to Live Life

04/25/16
I am Don Quixote

But I Am Not from La Mancha

04/15/16
| | |
| --- | --- |
| | 04/11/16 |
Worthless Windmills

Time Will Tell Their Worth

04/01/16
Learning from My Mentor

A Knight-Errant On His Deathbed

03/28/16
Could I Have This Dance...

For the Rest of My Life?

03/11/16
Alex Failed...

But Danced On.

03/09/16
What Drives Me?

And the Answer Is....

03/07/16
My Casablanca Party

Morphed Into My La Mancha Party

02/29/16
The Art of Beating the Grim Reaper

Follow Randy Pausch's Example

02/24/16
The Value of Dreaming

About My List of Dulcineas

02/12/16
Somewhere in Time

The Importance of Memories

02/04/16
Another Dancer

David Hume

02/01/16
Talking with Vincent

About Life and Art

01/27/16
Dreams will come to you....

If You Are True to Your Quest

01/22/16
Miguel Cervantes

As Don Quixote

01/18/16
Träumerei

The Dreaming of Schumann and Me

12/02/15
Devils Tower...

Another Misnamed Parable

11/30/15
Carson and Muslims

Insensitivity to Discrimination

11/23/15
What a Feeling

And It Is a Great Feeling

11/20/15
Pandora Provides Hope...

Don Quixote Provides Determination

11/09/15
Don Quixote

Then and Now

11/04/15
A Man with a Mission...

Sinking a German U-boat

08/12/15
Forrester and I in Our Winters

Seasons Change Young Man...

09/10/13
Don Quixote Rides Again...

Or Looking Down the Hallway

08/04/13